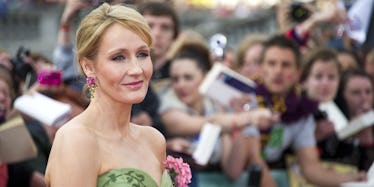 Yep, It's True: JK Rowling Is Releasing Three New 'Harry Potter' Books
Shutterstock
Well, Harry Potter fans, you're in for quite a treat.
Following the release of the exhilarating "Harry Potter and the Cursed Child" play, JK Rowling has announced that she plans to release three new "Harry Potter" books through her digital publishing company Pottermore.
That's right, not one, not two, but THREE new "Harry Potter" books. What have we done to deserve such literary goodness?!
The 51-year-old author is slated to release the three projects on September 6.
Despite Rowling announcing that the Harry Potter story has reached its end after the release of "The Cursed Child," these new books will be available in the form of a short eBook series called "Pottermore Presents" and will explore the many hidden secrets that surround the different characters within the "Harry Potter" series.
In a recent interview with Reuters, Rowling explains,
He goes on a very big journey during these two plays and then, yeah, I think we're done. This is the next generation, you know... So, I'm thrilled to see it realized so beautifully but, no, Harry is done now.
But the secrets remain!
Whether you're eager to learn more about the spooky Azkaban prison in the North Sea or unearth the secrets surrounding potions master Horace Slughorn, the new books will tie up plenty of loose ends discovered throughout past novels.
According to People, the new books will feature original writings by JK Rowling, as well as additional information from the Pottermore archives.
In a recent interview with Time regarding the upcoming release, Pottermore CEO Susan Jurevics reveals,
Pottermore Presents is intended to supplement the Harry Potter book series with short-form content that is entertaining and thematically curated by the Pottermore editorial team.
I don't know about you, but I think I know what I'll be doing this fall!
Perhaps the best part about this awesome Harry Potter news are the juicy titles to the upcoming releases which include "Hogwarts: An Incomplete and Unreliable Guide," "Short Stories from Hogwarts of Power, Politics and Pesky Poltergeists" and "Short Stories from Hogwarts of Heroism, Hardship and Dangerous Hobbies."
Sign. Me. Up.
Each book released as part of the "Pottermore Presents" series will cost you about $3 each. That's an incredibly small price to pay for pure happiness. I'm sure every true Potter fan can attest to that!
*Editor's Note: While this is the first time these stories are being released in book form, the stories themselves are not new. These books are made up of archived writing on the Pottermore website.
Citations: J.K. Rowling to Release Three New Harry Potter Books on Pottermore (People)