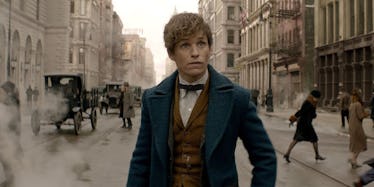 JK Rowling Announced There Will Be Five 'Fantastic Beasts' Films
Warner Bros.
Settle in, "Harry Potter" fans, because the magic's not going to end for a long, long time.
At the "Fantastic Beasts" live-streamed fan event in London on Thursday, JK Rowling announced that she is planning not one, not two, not three, but four more sequels to "Fantastic Beasts and Where To Find Them."
That makes a grand total of five movies, including the completed film that hits theaters November 18. Y'ALL.
FIVE.
MORE.
POTTER.
FILMS.
The author and screenwriter dropped the news after making a surprise appearance on the global fan event, which was broadcasted on the Fantastic Beast's Facebook Live.
Rowling said,
We always knew it would be more than one movie. We set a trilogy as a kind of placeholder. I've now done the plotting properly, so we're pretty sure it's going to be five movies.
After hearing this the audiences watching the stream in theaters around the world — all "Harry Potter" fans — erupted in cheers.
You can hear the announcement for yourself by scrolling to the very end of the live stream on the official "Fantastic Beasts" Facebook page (around the 50 minute mark).
After the stream ended, Rowling took to Twitter to assure fans that it really was going to five films.
And in case you're wondering what the heck those five films are going to be about — don't worry. Queen Jo has a plan.
Director David Yates, who was also on the panel, had earlier hinted that fans would be getting a lot of first Wizarding War backstory in "Fantastic Beasts."
Yates told fans both Dumbledore and his enemy/lover Grindelwald would be featured in the film.
He said,
We do mention Dumbledore in this movie. He features in a wonderful scene between Colin [Farrell] and Eddie [Redmayne]. And Grindelwald does feature in the movie, sort of in the background, and is going to become a much more prominent part of the stories going forward.
Can't wait to see Eddie Redmayne doing magic when he's 50!