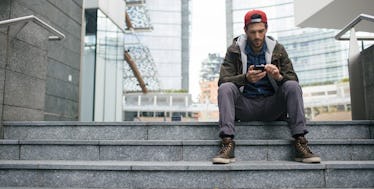 You Can Now 'Send' Your Ex That Emotional Text You Always Wanted To Send
Davide Illini
I've thought out, typed and deleted text messages to my exes wayyy too may times for me to count.
I'm a loudmouth, and when things between me and a guy ended on a messy note, I wanted the last word. But it seems there isn't much payoff from going back-and-forth with words that may get you nowhere.
So usually, if I stop staring at my phone, I won't send anything.
But Sean Drohan, a Princeton graduate, has created a place to house that emotional text you and I want so badly to send, and it's sure to give you all the feels.
After conceptualizing the simple idea during lunch with a friend, the 24-year-old turned to Google spreadsheets to create "things i wanna text my ex."
The spreadsheet is literally meant to be a place for you to write out the text you're too afraid to send your ex, according to Refinery29. You write it there, and then people can comment on them in the next columns. And that's it. Message to your ex sent, but not to them.
Drohan's creation is accessible to anyone with the link. He tells Refinery29, "There's plenty I would like to say to my exes (and too much I've already said). People enjoy anonymous opportunities to cry into the ether. There's kind of this unanswered question of to whom we say these things and why, but that's what's interesting."
Right now, the spreadsheet is at 190 plus lines of texts and counting.
Though it began as a personal experiment of sorts, Drohan tells Refinery29 he's taken aback at how receptive people have been of his little project and how quickly the spreadsheet is filling up with texts that've probably been pent up for some time.
"People really took it as an opportunity to speak some truth," Drohan says. "I think that I also try to cultivate that with people in my life, though. Like, I'm a compulsive non-small talker."
If you're embarrassed to contribute, don't be.
I've left a long winded essay in the spreadsheet myself that's blended in nicely with the current content. (I won't disclose what I said because I love secrets.)
Other comments in the spreadsheet are some of the wittiest burns, like, "I knew it was over when you told me your favorite movie was 'Garden State.'" And there are other longer, more gut-wrenching statements.
Take this doozy, for example,
Even though you used me, I still wish we could talk things out and have a mature conversation about what happened. You shut off and became a different person right before we broke up, and have been that way ever since. I wish you would act like the person I met and dated in the beginning. I also wish you would show any sign that you actually cared about me at all, instead of writing songs about nobody but him.
That really tugs at the heartstrings.
To be honest, I'm surprised someone didn't think of something like this sooner.
I dig it.
Citations: This Spreadsheet Collects Texts People Wish They Could Send Their Exes (Refinery29)