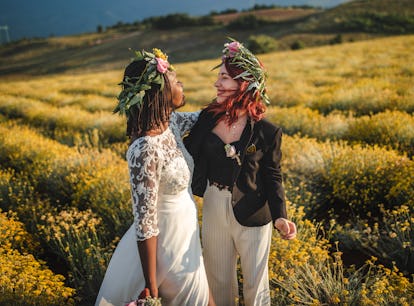 These Are The 9 Best Zodiac Pairs For Marriage, So Go Put A Ring On It
Matrimony was written in the stars for these pairings. 💍
Kosamtu/E+/Getty Images
When you think about astrological compatibility, it might be in terms of dating or sexual chemistry. In other words, usually, the short-term. But as it turns out, the stars also have plenty of advice to offer when it comes to long-term compatibility, and in particular the best zodiac pairs for marriage. And while short-term and long-term compatibility might share some common qualities — like whether or not your personality types work well together, along with emotional and sexual harmony — marriage compatibility takes additional factors into consideration. For example, for signs to be compatible for marriage, they need to have shared elements, like values, goals, and preferred lifestyle, since you'll be sharing a life together.
While any combination of zodiac signs are capable of having a happy, healthy marriage, some just make it seem a lot easier to achieve because they naturally mesh well together, so you can't just rely on your horoscope alone. But in general, these zodiac signs tend to face less points of friction and might not have all that many issues to resolve. You don't absolutely have to be in sync with your partner all the time for a relationship to work and flourish, but it can make your lives a whole lot easier if you are. So, when you're ready to settle down (but not settle), keep an eye out for the sign whose qualities pair best with your own long-term needs.
Again, zodiac compatibility isn't destiny. You can love someone who isn't suited for you at all according to the stars. But if you happen to be single and you're looking for a long-term love, you may just want to consider what the heavenly bodies have have to say.
Editor's Note: This story has been updated by Elite Daily Staff.
This article was originally published on