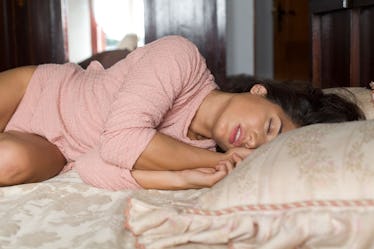 These 16 True Sexy Stories Will Make You Blush
Feel free to open this in an Incognito Window.
When looking back on your sexual history, there's bound to be one or two experiences that stand out from the rest. Maybe it was your first time ever, your most recent tryst, or that one-night stand from two years ago that you still fantasize about. It's always satisfying to reminisce about sex experiences from your past — plus, those sexy stories are not only fun, but they can point to all the different influences that have had a hand in shaping your sexual identity and preferences of today. When people reveal their best sex stories, it's almost always a recipe for a good time.
That's all fine and dandy, but how do you go about actually having this life-changing sex of lore? There are many layers to what makes a great lay, but to start: Sometimes fully giving yourself over to the experience is all you need for a mind-blowing romp. To make that happen, sexual and relationship psychotherapist Kate Moyle advises that you simply listen to your body. "Follow what feels good for you rather than doing what you think you 'should' be doing," Moyle tells Elite Daily. "The best sex we have is when we are fully in the moment and not thinking about anything else apart from what we're doing."
Another key component to the best sex stories? Electric attraction. According to Gigi Engle, certified sex coach, sexologist, and author of All The F*cking Mistakes: A Guide To Sex, Love, And Life, the best sex happens when there's strong sexual compatibility. This may seem like a no-brainer, but Engle explains that many factors can contribute to that spicy, sensual chemistry. "Sexual compatibility occurs when two or more bodies and minds match up during a sexual experience," Engle tells Elite Daily. "You're super into the things this person does to your body: the way they kiss, their smell, their sexual technique. You have chemistry, and things are hot. It means there is a spark. Everything sort of works."
It's normal for it to take most folks at least a little trial and error to figure out exactly what turns them on in the bedroom — but once you do, the results (and the memories) are epic. Here are some of the Internet's best sex stories that were just too amazing to forget.
Clear communication is always a win when it comes to great sex, so if you feel like your partner isn't pleasing you the way you'd like to be pleased, don't be afraid to kindly let them know. And when the communication, compatibility, and confidence align just right, you'll know. Shhh, do you hear that? That's the sound of tiny fireworks exploding in your bedroom tonight.
Experts
Kate Moyle, psychosexual and relationship therapist
Gigi Engle, certified sex coach, sexologist, and author of All The F*cking Mistakes: A Guide To Sex, Love, And Life
This article was originally published on