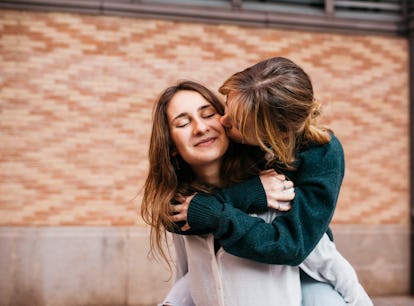 7 Zodiac Sign Pairings Most Likely To Fall In Love
Jordi Salas/Moment/Getty Images
For some people, a potential partner's zodiac sign can be just as crucial as who they voted for. Keeping in mind which zodiac signs are most likely to fall in love can help you keep an eye out for a match that's astrologically compatible. That way, you already have an idea of which hotties are most likely to go the distance. Whether you're deep into astrology or not, the vast majority of your dating pool very well may be.
Before you read the following zodiac sign pairings (and maybe panic because you don't see your sign and your crush's sign together), know that zodiac sign compatibility may be more nuanced than you think.
Jeanna Kadlec, the resident astrologer for the Sanctuary astrology app, tells Elite Daily that knowing your moon sign (which represents your emotional life), your Venus sign ("what we value, and how we like to be valued," she says), and your Mars sign (how you take action and your sexual needs) is key. "It's less about 'compatibility' between your planets, per se," Kadlec says, "[and more about] understanding how astrology can better help you communicate about what you are experiencing within the relationship." Here are the zodiac pairings who tend to have the smoothest rides.
With all of this in mind, if you and your partner aren't listed here as astrologically compatible, don't sweat it. At the end of the day, even astrologer Chani Nicholas, author of You Were Born For This: Astrology for Radical Self-Acceptance, says personality compatibility is what's most important.
"I have seen many different combinations of connections that make a relationship work, astrologically speaking, but the most important thing is that the people involved have a connection," Nicholas previously told Elite Daily. "Charts can be connected without the people that belong to them feeling connected." If you and your SO (or crush) are into each other, that's what really counts.
Experts:
Jeanna Kadlec, resident astrologer for the Sanctuary astrology app
Erin River Sunday, lead astrologer at Birthdate Co.
Chani Nicholas, author of You Were Born For This: Astrology for Radical Self-Acceptance
This article was originally published on