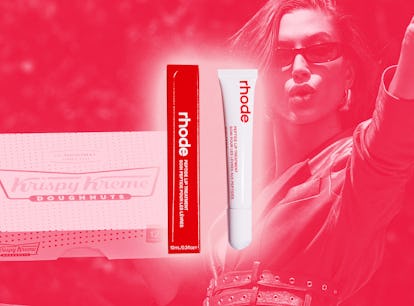 An Honest Review Of Rhode's Strawberry Glaze Peptide Lip Flavor
Hailey Bieber's buzzy new collab is inspired by a Krispy Kreme treat.
COURTESY OF RHODE
We may receive a portion of sales if you purchase a product through a link in this article.
Since launching Rhode, a line of skin care products, in 2022, Hailey Bieber has been making glazed doughnut skin more obtainable for everyone else, one peptide-packed product at a time. Of all the brand's offerings that have reached cult status on the FYP, the consistently sold-out peptide lip treatment is the model's pick for plumping and moisturizing your lips. So, when I heard Bieber was launching a Rhode Strawberry Glaze Peptide Lip Treatment inspired by Krispy Kreme's limited-edition Strawberry Glazed doughnuts, I was excited to review the brand new flavor ahead of its launch on Aug. 28 to see how it compares to its other vanilla, salted caramel, watermelon slice, and unscented options.
Bieber's skin-supporting Strawberry Glaze Erewhon Smoothie went viral earlier this year, so it makes sense she's bringing that same strawberry doughnut-inspired glazed aesthetic to her popular lip treatment. The 26-year-old entrepreneur's next peptide lip treatment flavor promises "pillowy-soft lips, day or night," thanks to the formula of short amino acid chains — peptides — which simultaneously trigger your skin to produce more collagen while plumping your lips and reducing the look of fine lines. Like the other Rhode Lip Treatments, this one also has shea butter (with vitamins E, D, and A), babassu to keep your skin's microbiome in balance, and cupuaçu, which supports your skin elasticity. So, in addition to giving you dewy, nourished skin on the outside, the lip treatment is supposed to promote your skin's health and overall appearance long-term. After trying it for a few days, here's my honest review of the product, from its consistency to the new flavor.
BDG product reviews and recommendations are written and conducted by writers and editors with expertise in their fields. Testers often have specific experience with the situation or product at hand, and/or their review or recommendation is provided in consultation with experts. You can learn more about our standards here.
Fast Facts:
Price: $16, which is the same as the other Rhode lip peptide flavors.
Who this is best for: anyone who wants juicy, hydrated lips with a shiny glaze that lasts for hours.
What I like: the applicator, how long the formula lasted, and how it looks like a lip gloss even though it's technically skin care.
What I don't like: I know it's a lip treatment, but I would have loved it if the product had a hint of color to go with the whole strawberry vibe.
My rating: 4.5/5.
The Packaging
Unlike the other Rhode Peptide Lip Treatment flavors, which have a gray palette with pink or white lettering, I loved that the Strawberry Glaze one came in a bright red box, which was non-bulky and easy to open. The tube itself was white with red lettering. I'm personally a fan of the Rhode applicator style, which lets you dispense precise amounts of product and will make it easy to get out any remaining lip treatment when you're almost finished with your tube.
First Impression
TBH, I already had pretty high expectations before testing Rhode's Strawberry Glaze Peptide Lip Treatment because of the hype surrounding the other flavors. Bieber's effortlessly glossy, plump pout speaks to the product's efficacy, and all of the Rhode lip treatments have sold out and restocked too many times to count.
Slathering on the Strawberry Glaze Peptide Lip Treatment, my first impression was how much I liked the strawberry glaze flavor and scent. It wasn't *quite* like a Krispy Kreme Strawberry Glazed doughnut, but it tasted pretty close for a lip product — and I wasn't mad every time I got a hint of it. The website calls the texture of the lip treatment a "thick glaze," but I felt like the consistency and appearance of the product were more similar to a lip gloss than a chapstick. Instead of using the Rhode Strawberry Glaze Peptide Lip Treatment as an overnight lip mask, I found myself swapping it in for my go-to plumping lip gloss (which I've sworn by since college) while going out during the weekend.
Is Rhode's Strawberry Glaze Peptide Lip Treatment Worth It?
Rhode's Strawberry Glaze Peptide Lip Treatment isn't cheap for a lip gloss, but $16 is actually on the lower end for comparable lip peptide treatments. IMO, it felt worth it for something that looks like a lip gloss yet is actually improving your skin texture and health over time. The Strawberry Glaze flavor might be my favorite peptide lip treatment from Rhode because it has major summer vibes and smells really, really good. I would have loved it if this special formula came with a hint of strawberry color, but I'll happily slather it on over my favorite lip products for an extra dose of lasting hydration and shine. Unfortunately, something tells me the waitlist for this flavor might be on par, if not longer, than other Rhode flavors.
Similar Products To Rhode's Peptide Lip Treatment
About Me
I'm a lifestyle editor who's passionate about beauty treatments, skin care, and any lip product that makes my pout look hydrated, line-free, and voluptuous. I've tested almost every viral plumping lip gloss I can think of over the years, and I'm always on the lookout for the next best thing.