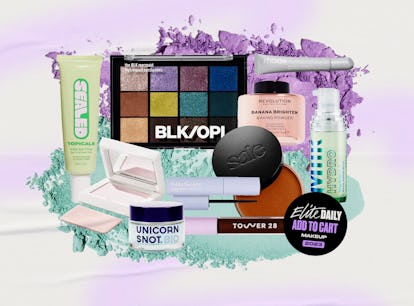 25 College Makeup Essentials For Every Activity On & Off Campus
Elite Daily editors share the products they swear by for class, tailgates, formals, and more.
We may receive a portion of sales if you purchase a product through a link in this article.
While the transition into starting a new year can be super stressful, the busyness that accompanies back-to-college season can also be super fun, with nights and weekends dedicated to hanging out with your besties, potential new friends, and maybe a special someone. The only homework you need to plan for those on- and off-campus activities: your lewk. Once you have all the GRWM-worthy college makeup essentials in your beauty bag, you'll be ready for any event, no matter how formal or casual.
Though there's an endless list of moments you may want to prepare for, there's only a handful of scenarios that are after-school staples — and the makeup products you wear to each of them could vary, drastically. Going to a tailgate? You might want to rep your school's colors with your eyeshadow. Headed to a frat party? A good setting powder is a must to withstand hours of wear (and sweat). And for class? A clean, no-makeup makeup look is nothing without a light skin tint. Below, Elite Daily's team of editors and writers rounded up their makeup must-haves to get you ready for whatever the #collegelife has to throw at you.
For Tailgating & Sporting Events
A Tinted Moisturizer For Sunscreen *And* Coverage
I use a tinted moisturizer almost every single day, and I love NARS' shade match. I'm also a fan of a tinted moisturizer with SPF, especially when I'm outside at a football game. — Rachel Chapman, experiences staff writer
An Eyebrow Pencil That Won't Budge
This is my Holy Grail of eyebrow products. It's a double-sided pencil and ink stain that's easy to use and stays on all day. Use the stain by itself for subtle color or combine it with the pencil for a bolder, more defined look. — Sarah Ellis, dating editor
An Easy-To-Blend Bronzer
I'm trying to switch to using only clean beauty on my skin, and this Saie bronzer is a game-changer. The cream formula looks really pretty and natural on your skin, and I love that there are skin care ingredients in it. — Lara Walsh, associate experiences editor
A Primer That Will Slay Your Base
If you're going to be outside all day for a tailgate or sports game, chances are you don't want your makeup to be sliding off your face, and making your beat stay on starts with the base. Find a good primer like the Milk Makeup Hydro Grip to ensure that your products won't budge while you're out in the elements. — Jordan Murray, BDG lifestyle intern
Eyeshadow For Game-Day Versatility
My school colors were blue and gold, so an eyeshadow palette that included both of those shades wasn't easy to come by — but not impossible either. Black Opal's mermaid palette is comprised of 12 gorgeous and shimmery colors, including my alma mater's, so anyone's game day looks can be straight fire. — Kaitlin Cubria, deputy experiences and beauty editor
For Formals & Other College Dances
An On-The-Go Touch-Up Kit
For events, I like to throw this touch-up kit into my bag. It has both blotting sheets and a powder-filled puff to keep my shine under control. — Rachel Chapman, experiences staff writer
A Glowy Pore Eraser
There's a reason Charlotte Tilbury's Flawless Filter is TikTok-viral. It's my go-to for making it look like pores have disappeared and my undereye area is extra glowy. It looks so pretty IRL and in pics, and it's worth every penny. — Lara Walsh, associate experiences editor
A Creamy Liquid Blush For Rosy Cheeks
This blush is everything. It's super pigmented, buildable, and lasts all day. Shout-out to the applicator, too — the wand makes application so easy and actually cute. — Kaitlin Cubria, deputy experiences and beauty editor
A Golden Highlighter To Add Shimmer & Shine
I've been using this highlighting powder for *years*. A little goes a long way, and it's super affordable for the amount of product you get. Despite it being a powder, it's super blendable. — Chelsea Jackson, experiences staff writer
A Liquid Eyeshadow That Will Last All Night
When I'm going to be out and need my eyeshadow to stay, I like to use a liquid color because it's more long-lasting. Not only are these liquid eyeshadows from Pat McGrath great for long wear, but they come in shimmering shades that will highlight a night look. — Rachel Chapman, experiences staff writer
For Off-Campus Parties
Glitter Gel To Shine Bright Like A Diamond
When I'm going to a party, I like to be bejeweled just like Taylor Swift, so I'll throw on some glitter either as a highlight or to accentuate my eyes. This glitter gel comes in a lot of fun shades, and I actually wore some to the Eras Tour in LA. — Rachel Chapman, experiences staff writer
Cream Contour To Snatch Your Cheekbones
For party makeup, I actually allot time to do things like contouring, and this cream bronzer stick is a go-to. It's easy to use, blendable with tinted moisturizer or foundation, and forgiving if you mess up (a must for those of us who aren't makeup pros). — Sarah Ellis, dating editor
Mascara For Sky-High Lashes
When a mascara calls itself the "GOAT" of great lashes, you tend to have pretty high expectations. Not only is the GLOAT mascara packaging super cute, but I love that the clean beauty formula from the founders of Too Faced really does it all with a brush that adds volume, length, and separation with zero clumps (and no eyelid mascara transfers, which is huge for me). Plus, it has ingredients like vitamin B5 and olive wax that are good for your lashes. — Lara Walsh, associate experiences editor
Setting Powder To Keep Your Makeup From Slipping
Whether you're spending your weekends out at a frat party, club, or bar, it most likely will be packed, meaning you're in a hot room with a ton of (fellow sweaty) people. So you'll need to find a good setting powder to keep your makeup intact. I love the Fenty Beauty Invisimatte powder because not only does it keep my makeup from melting off my face, but it also acts as a blotting powder, so I throw it in my purse and reapply if I get shiny throughout the night. — Jordan Murray, BDG lifestyle intern
A Multicolored Eyeshadow Palette, So You Can Be On Theme
College parties often have fun themes that require different outfits and potentially fun makeup looks. Getting a rainbow palette featuring a ton of colors like this one is perfect for when you have to switch up your look, whether that's green shadow for an "out of this world" alien bash or pink for a Barbie-inspired party. This will also be great for the many Halloweekend parties you'll hit up. — Jordan Murray, BDG lifestyle intern
For When Class Is In Session
A 2-In-1 Primer And Skin Protectant
Sometimes, I skip the foundation and just use this primer. It really does help to fill in my pores, which are larger than I would want, and it gives me a matte-like no-makeup look. — Rachel Chapman, experiences staff writer
A Lip Balm To Stay Moisturized
Rhode's peptide lip treatment is my go-to for a daytime no-makeup look. It goes on so smoothly (it's not sticky or waxy like a lot of others) and it gives your lips such a silky, plump look. Bonus: It actually replenishes dry and dehydrated lips, too. I've tried a bunch of flavors and I think salted caramel is the best. — Michelle Toglia, executive editor
A Skin Tint To Even Out Your Complexion
I love ILIA's skin care-makeup hybrid products, especially this tinted serum. It evens out my skin tone and makes me look glowy without feeling like I have anything on my face at all. — Sarah Ellis, dating editor
A Highlighter Stick For That Extra Glow
This highlighter stick adds a stunning glow, whether you're getting back from summer vacation or want something to brighten your skin during the winter months. Plus it has a mix of avocado oil, açaí oil, and more skin-supporting ingredients. — Lara Walsh, associate experiences editor
A Concealer That Makes Blemishes Look Invisible
I barely left myself enough time to change my clothes, let alone put on a full face before class. All I really had time to do was cover up my blemishes. That's why Tower 28's serum is so great — with 20 shades to choose from, it's actually possible to find one that blends in naturally with the rest of my olive skin tone. — Kaitlin Cubria, deputy experiences and beauty editor
For Dining Hall Hangs
A Red Lip For When You're Feeling Saucy
I've tried a lot of lipsticks to find a long-lasting color, and the Super Stay Matte Ink from Maybelline is a go-to. You can find bright and more natural-looking colors to fit your vibe, and it'll last all day — even after a large meal. — Rachel Chapman, experiences staff writer
A Buildable Eyeshadow Stick
This cream eyeshadow stick is easy to throw in a bag and reapply throughout the day — not that you'll need to. It's subtle and shimmery but can be built up to a bolder look for nighttime. — Sarah Ellis, dating editor
A Natural Setting Powder
This setting powder is my favorite Laura Mercier setting powder dupe. It keeps your undereye concealer in place without the need for touch-ups, and it doesn't make you look like a powdered doughnut. It also comes in a range of different shades that match a variety of undertones. — Chelsea Jackson, experiences staff writer
An Undereye Brightener To Wake You Up
This clean beauty concealer is great at brightening up your eye area and adding good coverage wherever you need it. It's also long-wearing, so you can just add some powder on top before you head out for the night. — Lara Walsh, associate experiences editor
Blotting Sheets To Control The Shine
Blotting papers are essential to keep in your bag for a day when you'll need to transition your makeup from day to night. This pack from TATCHA is super luxe and won't mess up your look — just freshen it. — Sarah Ellis, dating editor