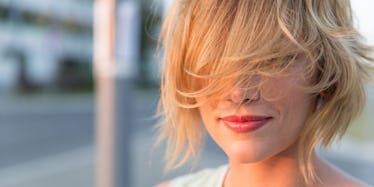 What Your Zodiac Sign Says About The Haircut You Should Get Next
Jovo Jovanovic
Every month, I get an itch to go to my salon, drop some dough and walk out an entirely different person. In the past year, I've been platinum blonde, gray, pink-tipped, long and short. I'm in blunt bob territory now, but I'm already dying to go strawberry blonde.
In the past, I've diagnosed my addiction as a case of hair ADD, but now I'm starting to think there might be some cosmic alignment behind it all. Maybe it's a personality thing — or maybe, just maybe, it's a zodiac thing.
I'm not a devout believer in the zodiac. But, when it comes to something like hair, I can't help but think my passionate Scorpio tendencies definitely play a part in my decision-making.
Don't be such a Taurus about it, and keep reading.
Asymmetrical pixies are perfect for Capricorns.
I know how much you like tradition, Capricorn, but try dyeing the lengths different shades — think platinum and darker blonde, or alternating pastels.
Aquarius creativity works wonders on an A-line bob.
The A-line bob style might seem simple at first, but with your creative energy, you'll find ways to play around with it. Keep it straight and sleek, or infuse volume at the crown by misting the roots with texturizing spray.
Undercuts are made for Pisces gals.
Offset a geometric undercut with long locks. Leave them down to hide the cut, or pull them into a ponytail to show off. Pisces, you know you're all about that drama.
Aries chicks need a low-key messy lob.
Go for a low-maintenance style, like a shoulder-grazing relaxed lob. The look is easy to style and elevate, but it looks just as good air-dried and left to do its own thing. No need to stress about your hair when you're traveling the world.
The practical Taurus needs long layers.
Effortless beauty is the name of the game for you, and that's why you need long, breezy layers. The 'do is one of the easiest cuts to style and looks bangin' no matter what you do to. Let your waves air-dry, curl the ends or keep it straight and out of your face.
Gemini babes mesh well with wispy pixie cuts.
Pixie cuts can be washed super quickly and look top notch, no matter the style. Play with bangs by styling them away from your face like Ruby Rose, or letting them chill like Emma Watson.
The Cancer is at peace with a heavy fringe.
Pro tip? If you're craving Alexa Chung-level textured bangs, spray a bit of dry shampoo or texturizing spray on a paddle brush and run it through the ends of your bangs after styling with a blow dryer. You're welcome.
Leo ladies should embrace natural volume.
A shorter, layered cut naturally infuses volume because your hair isn't dragged down by length. Girls with curls should go for an asymmetrical lob.
The sensible Virgo should choose long, center-parted strands.
Keep the look extra-sleek by running a lightweight oil from root to tip, perfect for taming flyaways.
Libra should stick to a sleek lob.
Keep your bob looking chic and Taraji P. Henson-worthy by running a hair serum through your ends.
Scorpios have blunt, choppy bobs on their radar.
Add more drama (you know you love that drama, Scorpio) by slicking your locks back with mousse.
Sagittarius idealists own textured bowl cuts.
Are you ready to try what's in your hair horoscope, ladies?