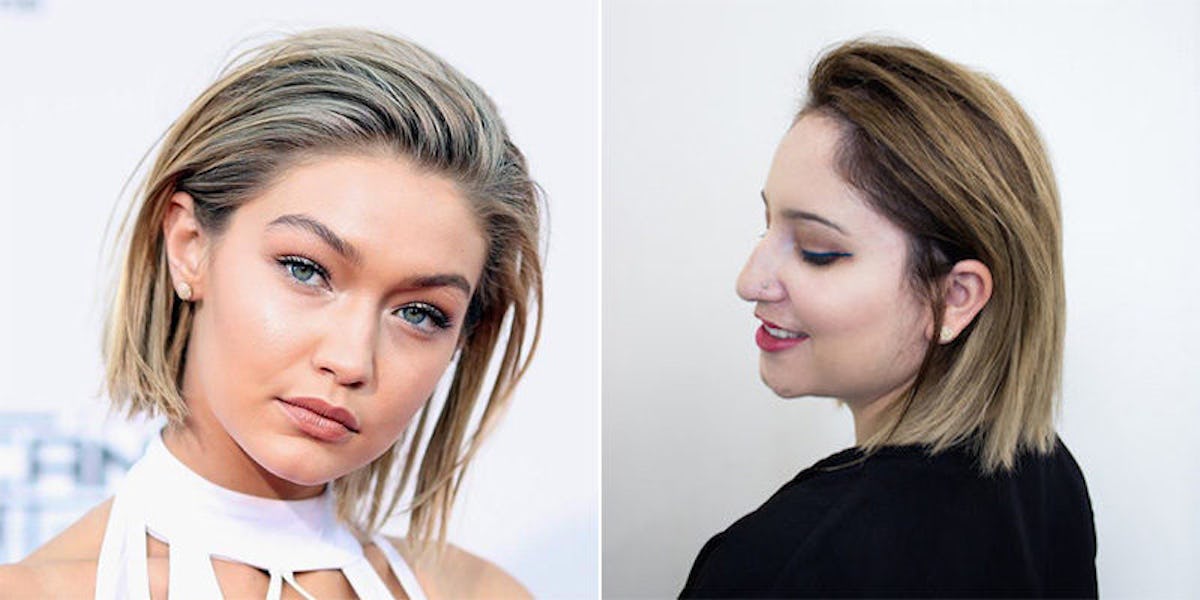 Here's How To Get Gigi Hadid's Fierce, Sleek Bob In 5 Easy Steps
Short-haired girls don't have a lot of options.
With mermaid locks and long waves taking center stage -- both on red carpets and off -- bobs and pixies get overlooked.
Even Kylie Jenner, who sports a shoulder-grazing lob, always dons wigs and extensions.
When do the shorties get to have some fun?
Needless to say, when Gigi Hadid walked the American Music Awards red carpet she became the patron saint of girls with bobs everywhere.
Her coif was slicked back in a way that echoed both James Dean and the wet hair trend featured all over the runways several seasons ago.
We partnered with Annie Rush, senior stylist at Eva Scrivo Salons, for a step-by-step on how to master the look and re-create it at home.
Hadid's bob might've been a wig, but yours won't be.
1. Start with a slick foundation.
Start off by spraying your hair with foundation spray to even out the porosity of the hair. This will allow any future products to be evenly distributed throughout the roots and shaft.
Think of it like applying a makeup primer before foundation. It helps create a blank canvas.
Next, apply an oil-based mousse.
2. Section and blow.
Split your hair into top and bottom sections.
Blow-dry the bottom section of your hair straight down with a boar bristle brush.
Once your locks are dry, pin back the sections of the hair closest to the ear to keep your locks at the side of your head.
3. Give yourself a faux-hawk.
This step is the most fun.
Begin blow-drying the top section of your hair straight up with a round brush. Next, roll the front piece and clip it with a duck clip for extra volume.
If you look like a cockatoo, you're doing it right.
4. Let the clips go.
Once your hair is totally dry, spray the roots with a dry texturizing spray.
Release the clips at the bottom of your hair and brush your locks back with a boar bristle brush, so they blend together.
5. Get wet.
If you're going for more of a "wet look," use a balm cream from the root to the ends and rake your hair with your fingers. It'll help piece the hair while still providing hold.
This isn't a one-day style, either. You can preserve your Gigi-approved bob for days by applying mousse to the dry locks to keep the style in place.