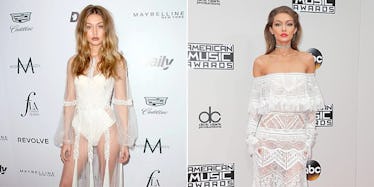 12 Ways To Rock Sheer In Public Like The Adult You Are
REX/Shutterstock
Are you currently in denial about succumbing to everything related to #adulting? Odds are, you're not alone.
But it's time for a reality check, ladies: We're not in college anymore.
We're ADULTS, for Pete's sake.
It's the prime time to start embracing every incredible aspect adulthood has to offer… especially the style game.
Being an adult does NOT entail dressing stuffily and frumpily; it means having an eye for the right trends, looks and colors that complement your body and the occasion perfectly.
Trying way too hard sometimes does just the opposite.
Take sheer, for example. Bella Hadid is the queen bee of making a statement (and countless headlines) in sheer dresses and tops.
She can't stop, won't stop crushing the sheer trend, and she works it to an unparalleled level.
More so, she confidently does her.
When you really want to look your absolute best, know there are ways to pull off sheer like the boss girl you are. (Accessories and coordinating pieces also play an important role, of course.)
Here are 12 ways to rock sheer in public like an adult. You'll be looking super fly and chic in no time.
1. Pair your sheer top with a fun bralette... and leather skinny jeans.
2. Sheer underneath a bomber jacket screams trendy, and it simultaneously exudes that sexy edge.
3. This ensemble is OK for the office (if your dress code abides by trendy casual guidelines).
4. Tucking it into distressed denim (with a stylish leather belt, of course) creates major boho chic vibes.
5. Wearing it as a cover up over your bikini is one of my ultimate favorite looks.
6. A long dress over a unitard is so versatile... and perfect for Coachella.
7. A crop top looks so savvy when worked with your favorite pair of bell bottoms.
8. Rock it with a maxi skirt, and all eyes will be on you.
9. An embellished jumpsuit is always a fun choice.
10. Real talk: A sheer skirt is life.
11. Pair your sheer with high-waisted shorts and coordinating booties to look oh-so fierce.
12. You can even rock sheer and be cozy AF at the same time.
Where you wear your sheer plays a big part. There's a time and place for rocking the sexiness sheerness exudes.
You'll look spectacular when it's time for girls' night out at the bar, as well as bottomless boozy brunch with the squad.
But on Monday morning, at a staff meeting with the suits? Not so much.
If you rock sheer with the confidence every gal should exude, you'll win the style game every damn time.