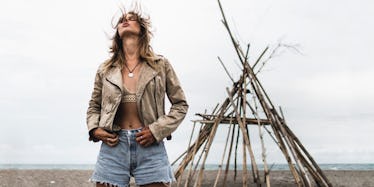 7 Ways To Create The Perfect Coachella Outfit With Things You Already Own
Alexander Grabchilev
If you're going to Coachella this year, we know putting together the perfect outfit is already on your mind. You're wondering how you can compete with the famous festival looks seen on celebrities from previous years. The catch is, you don't need to go out and spend hundreds of dollars. You will realize that everything you need -- from shoes to accessories -- is already sitting in your closet.
So, stop stressing. There's no credit card swiping required to make you look good. Here are seven things you already own that will make up the perfect Coachella outfit:
1. Ankle Booties
Whether they're Stuart Weitzman or from Target, this staple shoe is most definitely sitting in your closet, and they are perfect for prancing around the grass at Coachella. Not only are they sturdy, but they are also a more comfortable option than a pair of strappy sandals you know will cut into your feet at every angle and create miserable blisters. A pair of simple ankle booties, as seen on both Kendall Jenner and Gigi Hadid at last year's Coachella, will look trendy and chic.
2. Ripped Jean Shorts
You can't say you don't own a pair of ripped jean shorts. If you don't, it's simple to take a pair of old jeans and cut them. Jean shorts are the perfect go-to staple at Coachella. They are casual and stylish at the same time; just make sure that the pair you choose to wear isn't the pair you know will ride up. No one wants to have to pick a wedgie every five seconds in front of thousands of people at a music festival. Trust me.
3. Lace Or Floral Top
A lace tank or cute floral top will add some sass to your outfit. The latest trend among festival goers is the off the shoulder look. If nothing in your closet matches this criterion, don't panic. A lace bralette from Free People, or flowy floral top will be perfect for this bohemian-inspired outfit. If lace or floral patterns aren't your thing, don't worry; throw on a cute bikini top and call it a day.
4. Button-down Shirt
A button-down shirt is perfect to throw on when the sun goes down, or have tied around your waist during the day. That plaid button-down we all have in our closet ties together this Coachella outfit. If plaid isn't your thing, a jean button down or any sort of shawl (with fringe is a bonus) will work perfectly. Throw it over your shoulders and your festival outfit is close to being complete.
5. Mirrored Sunglasses
Mirrored sunglasses, the latest sunglasses trends, have taken over the world of fashion among Generation-Y. We can't survive without our blue, green, red or purple mirrored Ray-Ban aviators. They complete any outfit and are perfect for a music festival like Coachella.
They not only add necessary color to your outfit, but we also know a perfect Coachella look is not complete without a stylish pair of sunnies. Vanessa Hudgens, also known as the "Queen of Coachella," rocked an amazing pair of oversized, circular red-mirrored sunglasses last year. So if you don't own a pair of the mirrored aviators that everyone and their mom owns, improvise with a different style.
6. Headband
Whether it's a bandana you found hidden in one of your drawers or a beaded Urban Outfitters headband, this accessory will complete your Coachella look.
Not only will it keep your hair out of your face, but you can also wear the headband multiple ways to switch things up during the different days. Wear it normally or hippie-style over your forehead, and you will achieve celebrity status at Coachella. If you need headband inspiration, take notes from Gigi Hadid's day three outfit from Coachella 2015.
7. Gold Jewelry
We all have those $1 rings, bracelets and necklaces from Forever 21 that we bought in eighth grade. Now is the time to resurrect them and put them to good use. Layer some of those cheap gold bangles on your wrists and you officially have #armcandy.
If you have some delicate gold necklaces to layer, they will add the finishing touch to this effortless festival outfit. Check out Kendall Jenner's layered gold body jewelry and necklaces from one of her Coachella 2015 looks.