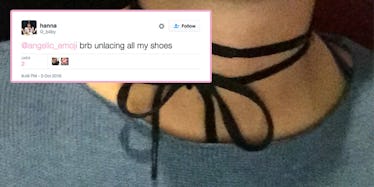 Girl's Shoelace Choker Will Make You Feel Dumb For Spending So Much On Yours
Twitter
Confession: I have never worn a choker, and I probably never will. I honestly just don't think I could pull it off.
But apparently, you don't need to be super fashionable to rock a chocker like the ones taking over Urban Outfitters.
And that's because you can literally just tie some string or a shoelace around your neck, and BAM: You're fashionable.
Don't believe me? There's proof, people.
A college student named Katie Rosebrook tweeted a photo of her choker she made out of a black Nike shoelace. It got retweeted over 47,000 times because people just LOVE this shit, and it's so easy to copy.
Other crafty choker-wearers started tweeting their DIY necklaces, too.
This girl used a white shoelace.
And if you don't feel like using a shoelace, this girl proves you can even use the string of a drawstring bag. Damn.
If you've ever spent more than $10 on a choker, I'm sure you feel pretty dumb right about now.
Especially because cheap chokers already look "deadass" like shoelaces, according to this girl.
Many people were inspired by Katie's creativity...
...because the black shoelace choker look is actually pretty cute.
And some were more than ready to take a step further because the choker trend knows no limits.
Why even use shoelaces for actual shoes anymore?
This isn't the first time the internet has expressed strong feelings about chokers. Let's not forget when Kim Kardashian wore a denim choker made out of the hem of some jeans around her neck.
People were not into that at all.
Even though all of this choker creativity is inspiring AF, I'm still not totally on board.
But to all the girls who are wearing shoelaces, belts, strings, pieces of spaghetti or iPhone charger cords, keep doing you.
Citations: The internet is feeling so many feelings about this girl wearing a shoelace as a choker (Hello Giggles)