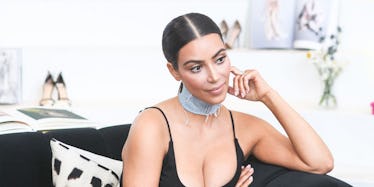 The Internet Has Some Strong Opinions About Kim Kardashian's Newest Choker
REX/Shutterstock
When you're the one of the wealthiest women in the world, with couture designers rushing to dress you and no door unopened, how do you get your kicks? Do you turn to drugs, sex or booze for your jollies?
If you're Kim Kardashian, you just make dubious fashion choices. In her August 10 Snapchat story, the mogul who's made a name from her curves and business savvy turned up to work (read: visit a Revolve showroom for the cameras) in a black minidress, custom Yeezy thigh-highs and a wide denim choker that appeared to have been actually cut off from a pair of her pants.
Come again?
Yes, Kim's fashion choice for the day was wearing the hem of her jeans on her neck, as forward-thinkers do. While she didn't reveal exactly how the accessory came about, one video catches her telling an off-camera supporter she "just, like, made it." OK, then.
What are the chances the denim actually comes from a pair of hubby Kanye West's pants? Instead of the BFF necklaces that are those little hearts you break apart and each wear, Kim and the artist formerly known as Pablo wear each other's jeans around their necks.
Thankfully, I'm not the only one to have noticed Kim's off-kilter fashion choice. Twitter is abuzz with word of the denim choker, and it has a few choice thoughts to share with Kimberly.
Some people felt outraged Kim can't even get a stylist to check her before leaving the house.
Idk what kinda fashion statement Kim k was trying to make with that denim choker but it looks like she cut a piece of her pant & put it on — Jenai (@jenaivalencia) August 10, 2016
Others mourned the death of a perfect outfit, thanks to the choker.
So. Many. Burns.
@Valcaakes did you see Kim K's "denim choker" though it was like a full leg of a Levi's — Diana Karen Mireles (@dianakmir) August 11, 2016
Kim K talking about she got on a denim choker shit look like she cut a pair of old jeans and decided to put it on her neck — Dayiaone Bibb (@DaeAunie) August 11, 2016
One kind person even reminded Kim she'll probably need the extra warmth, come fall.
Are you one of the few who can't get enough of the '90s throwback Kim wore? Look for a similar piece on Etsy. Just don't tell Twitter.