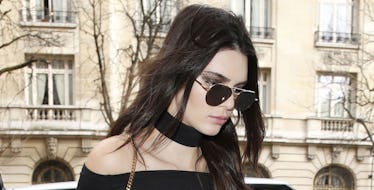 This Style Hack Will Get You The Trendiest Chokers For Less Than $10
REX/Shutterstock
Fashion has lost its mind. I can get behind most trends, even those off-the-shoulder ruffled tops that make people look as if they have the largest uni-boobs known to man. The recent choker craze, however, has me scrolling through Instagram, shaking my head and literally foaming at the mouth (I like to look at Instagram while I swish whitening mouthwash around).
The actual style statement is very '90s Christina Ricci, but the products are wildly overpriced. Take, for example, a choker from fashion blogger Rumi Neely's much-lauded "Are You Am I" line. It's essentially a long string with gold-painted aglets selling for nearly $60. You know what I could buy for $60? A hot night out on the town, complete with a choker I made myself.
I don't care if you're Kendall Jenner lunching with Vogue in Paris or my cousin on a beach in New Jersey: That is glorified baker's twine you're wearing, and your stomach acid should curdle at the thought of handing over your credit card for one. Even high-fashion publications like Man Repeller are picking up on the absurdity of the situation, publishing go-to guides on how to wear string.
It seems as if I'm not the only one forging ahead with style hacks, either. A quick Instagram search turned up plenty of results for "string choker" and "ribbon choker." If you live near a craft store and have a spare $5 in change rattling around your coin jar, I'm about to change your life. As style mavens move from a thick, velvet choker style to an increasingly summery, thin, looped version, you can get one for almost no money.
Decide if you're looking for a suede cord, string or ribbon, then pay a visit to your local craft store (I'm a Michael's fiend). Cord will run you about $8, while narrow grosgrain ribbon and baker's twine fall closer to $2. If you're feeling really ambitious, look for a bottle of crafter's fray glue as well — it'll seal the ends of your DIY choker and protect against wear and tear.
If you're seeking a choker spirit guide, I'm a big fan of Danica Del Rey's tutorial.
Now, spend your extra $60 with abandon.