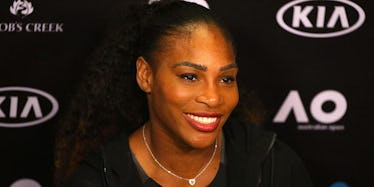 Serena Williams Shines Light On A Form Of Domestic Abuse People Rarely Notice
Getty Images
Financial abuse, also called economic abuse, is a real thing that tennis star and mom-to-be, Serena Williams, is determined to shine a light on.
The star athlete has just joined the Allstate Purple Purse Foundation, an organization that raises money to fight domestic violence, including financial abuse, as reported by Mic.
According to WomensLaw.org, financial abuse happens when people are forced to do things like check in with every spending choice, or receive an "allowance," even though they do not want it.
They can have their money or their family's money stolen by their partner, be made to sell their stuff for money, forced to sign over "power-of-attorney," or might be forced to work for their partner or family business with little or no pay.
Financial hardship, whether or not caused by a partner, also contributes to the reason why many domestic violence victims do not leave their abusive relationships.
The Purple Purse Foundation works to end this by raising money to help victims, providing financial empowerment classes, and providing a career empowerment curriculum.
Williams And The Project Released A Sobering Hidden-Camera Purse PSA
In the video, a purple purse is left behind in a ride-sharing car. The phone gets alerts repeatedly, a rider hears it, and checks them. He or she finds that the alerts are text messages saying things like:
I cancelled your card. Good luck paying for a lawyer when you have no money. You have nothing without me.
Each person meets up with the owner of the purse — after she calls and tells them where to meet to return it to her — and they all ask if she's OK and acknowledge they saw the texts she received.
The video ends with a powerful message that says,
Finances are the #1 reason victims can't "just leave." If you knew someone needed help, would you know what to do? Get involved.
It was the perfect visual to show how financially abusive relationships play out in real life.
According to the National Network to End Domestic Violence,
Financial abuse is experienced in 98% of abusive relationships and surveys of survivors reflect that concerns over their ability to provide financially for themselves and their children was one of the top reason for staying in or returning to a battering relationship.
Williams shared her reasons for championing the cause with Mic, saying,
Not a lot of people really know about financial abuse. It's an invisible but also really devastating form of domestic abuse that traps victims in these harmful relationships. If a woman's credit is ruined, she can't get an apartment. Most of the time when people leave abusive relationships, they have this awful debt and that can take years and years to recover, especially if they have kids.
Serena Williams Isn't The First Celebrity To Join The Purple Purse Project
Scandal front woman, Kerry Washington, became the project's ambassador in 2014 and has helped design three purple purses to raise money for the cause.
She told InStyle magazine in a 2014 interview,
I'm very proud of the design of the purse. As someone who loves bags, I'm thrilled to wear it and honored to own it. The design was inspired by what the bag stands for—the color is purple, the signature color of domestic violence awareness. It's a good-sized bag, not a tiny little clutch, but rather a bag that can carry your keys, your wallet, your phone—all the things you need to get through the day. The leather and tweed mix together to make it feel classy, yet on-trend and modern. I gave it a side handle because I like the idea of holding the clutch close to you and making sure it's safe. You can hold on to it the way you need to hold onto your financial well-being.
Her latest bag was released in March 2017.
Kudos to Williams and Washington for committing themselves to bringing awareness to a cause that so many people are not paying enough attention to.