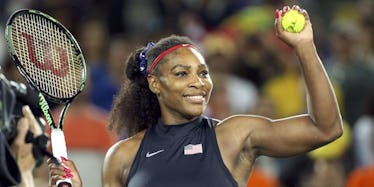 This Detail About Serena Williams' Pregnancy Proves She's A Complete Legend
REUTERS
WOAH! HUH? WHAT? Big news!
Serena Williams is five months pregnant with her first child and no one can handle it.
On April 19, the 35-year-old Olympic gold medalist made the announcement on Snapchat, posting a mirror selfie of her adorable baby bump.
She posed wearing a yellow one-piece swimsuit and captioned the photo,
20 weeks.
CONGRATS, SERENA!
Her fans went to Twitter to congratulate the athlete and express their excitement over the announcement.
However, a bunch of people seemed to make an INCREDIBLE realization about Serena Williams' pregnancy.
You see, if Serena has been pregnant for 20 weeks, THAT MEANS SHE HAD A HUMAN INSIDE OF HER WHEN SHE WON THE AUSTRALIAN OPEN.
Yup! Back in January, the athlete made headlines for her 23rd Grand Slam singles title. THIS WOMAN IS A LEGEND.
Obviously, people on social media went insane. All hail Serena Williams. Bow down, peasants. We are not worthy.
I can't even put a bra on in the morning and Serena Williams won a Grand Slam while pregnant. Let that sink in, people. We are all worthless.
I want to get Serena's face tattooed on my back and her baby's ultrasound pic painted on my ceiling. Anyone have $5,000 I can borrow? This will be expensive.
SE-RE-NA! SE-RE-NA! CHANT IT WITH ME. SE-RE-NA!!!
Since the tournament, Serena Williams has withdrawn from events in Indian Wells, California, and Miami because she had a knee injury.
She is on the entry list for the Madrid Open which begins May 5, so this baby is gonna come out of the womb with a six-pack.
Her child isn't even born yet and it'll be more jacked than I ever will be in my life.
Serena, you're gonna raise a star. Maybe I won't even give birth 'cause my kid will just be... sad.
Congrats again to the wo-man, the myth, the legend.
Way to make us all look bad.
Citations: Serena Williams Is Pregnant (NY Times)