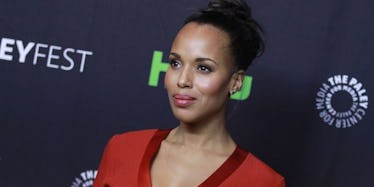 Here's How You Can Get Kerry Washington's Flawless, Glowing Skin
REX/Shutterstock
Making your skin have the luminosity of a 75 watt bulb is all the rage in skin care right now, and Kerry Washington is nailing it.
I wake up every day and, like a certified alchemist, try to apply the exact ratio of lotions and sunscreens to appear like I live on wheatgrass and great sex.
It never truly works out, and I usually end up looking more like someone spit on me.
But Kerry Washington, the star of "Scandal" and the Queen of Skincare, recently shared all her beauty secrets with Allure, and I've realized her natural glow goes deeper than the surface of her skin.
According to Allure, Kerry makes drinking water a major step in her skin-care ritual.
She told the mag, "I look and feel better when I'm drinking water all day long." That isn't totally surprising considering drinking water nourishes us all, both inside and out.
She mentioned she also double cleanses her skin at night, which is a good idea when you're slathered in makeup everyday before going on camera.
Though that sounds time-consuming, it only adds about 45 seconds onto your routine.
Washington explained,
I take my makeup off with Neutrogena Makeup Remover Cleansing Towelettes first, and then I cleanse again.
And Washington isn't the only celeb who's obsessed with the Neutrogena's cleansing wipes.
Back in September, Kylie Jenner wrote on her app,
When I wear a lot of makeup, it can really be hard to take it all off, so I need something that will do the job, but not irritate my skin. My go-to cleansing towelettes are from Neutrogena!
Kerry also boasted the benefits of hyaluronic acid, the superstar skin care ingredient you NEED to get your hands on immediately.
If you haven't tried it, hyluronic acid comes in serums, lotions, masks, supplements, injections and creams, which is Washington's preferred method of choice.
Hyluronic acid is actually a sugary molecule, one that acts like a sponge to trap moisture deep under the skin. Each molecule can hold 1,000 times its weight in water, so your skin looks firmer, fuller and dewy AF.
(Go ahead and do a cat-walk spin for that. You know you want to.)
While Washington swears by Neutrogena's Hydro-Boost Hydrating Tint, there are a million products out there that feature hyaluronic acid. It's literally skin care's celebrity ingredient.
It's almost as famous as Kerry Washington herself, which makes them the perfect power couple.
Citations: Kerry Washington Spills Her Skin-Care Secrets for a Glowing Complexion (Allure)