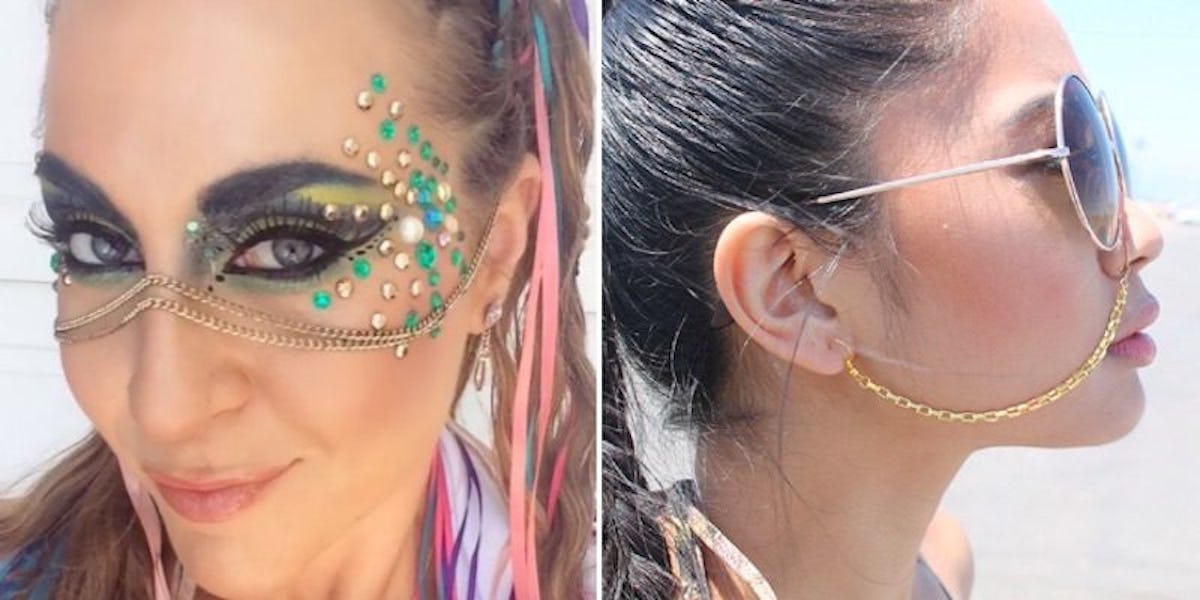 People Are Taking Festival Jewelry To The Next Level With These Face Chains
InstagramInstagram
The music festival scene has resurrected a variety of retro fashion trends.
From the hippie flower crowns of the '60s and the flowing maxi dresses of the '70s to the vintage rock tees of the '80s and the tattoo chokers of the '90s, there's no denying history is definitely repeating itself as far as style is concerned.
However, the latest festival trend might surprise you.
Apparently, a growing number of women are swapping out their Woodstock-worthy outfits for some old-school styles inspired by the East.
That's right. Lately, we've seen a lot of festival fashionistas rocking face chains and, I have to say, these eye-catching accessories look enchanting AF.
While many of us Westerners are just seeing this style for the first time, it turns out rocking jewelry on your face is nothing new.
Apparently, nose chains are traditional accessories that have been a part of Indian culture for thousands of years.
But thanks to the boho-chic style revelation, we've been seeing these captivating chains pop up on the faces of style goddesses at festivals all over the states.
Face chains are the newest trend taking over the music festival scene and lots of ladies are ditching the dull flower crowns for some glam facial jewelry.
So far we've seen everything from simple gold chains...
And beautiful beaded renditions...
To crystal-clad facial decor..
Sparkly strings that stretch from ear to ear...
...and chains attached to bold hoops that really make a style statement.
We've seen women deck out their under eyes in dazzling displays of gold...
Divas delicately drape chains over their whole faces...
...and ladies who aren't afraid to unleash their inner goddess with some intricate golden chains.
Apparently, faces aren't the only thing women are covering in chains. We've also seen festival fashionistas wrap chains around their thighs...
Crown their heads in gilded accessories...
...and deck their whole bodies out in badass chain jewelry.
Yep, it's not hard to see chains are definitely having a moment.
So, if you ask me, there's no better time to try out this gorgeous trend.