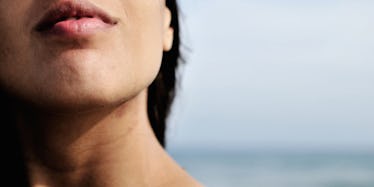 Neck Contouring Is The Latest Beauty Trend Taking Over Social Media
It's official: The contouring craze is out of control. The makeup-shading technique, made popular by Kim Kardashian-West, is typically used to superficially "sculpt" chiseled cheekbones or build bountiful busts.
But recently, beauty buffs have taken to contouring their necks to create the illusion of a long, lean silhouette.
This unexpected new use for contouring was first introduced by YouTube vlogger MakeupWearablesHairstyles in an Instagram video posted in January. In the video, the makeup maven can be seen applying bronzer and highlighter to the back of her neck to create a "slimmer, graceful looking" canvas for updo hairstyles.
Though neck contouring may sound unnecessary (and ridiculous) to us plebes, MAC Cosmetics Senior Artist Regan Rabanal has always done it. He told Mashable,
[Contouring] is a technique that has always been present in makeup artistry from the early 1900s until now and has gained more popularity today due to how swiftly tutorials and photos are shared online.
Despite its widespread use, however, Rabanal cautioned,
The most important thing to remember [when contouring] is how you personalize your own daily makeup routine. It should fit your personal style.
So if spending half an hour each day applying makeup to your spine is your style, have at it; you can learn the technique below.
As for me? I'll be taking a hard pass on this one.
Citations: Neck contouring is the ridiculous beauty trend taking Instagram by storm (Mashable)