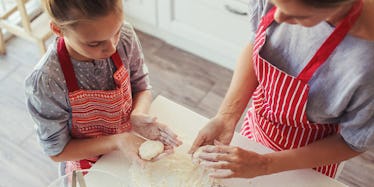 All The Reasons I Would Love To Become A Millennial Housewife
Work should be optional, like my breakfast choices.
As a writer, I spend a fair amount of time interviewing cool people, sharing stories and taking full advantage of open bars. However, like most occupations, some days that sh*t sucks and I'd love to dump all my financial responsibilities onto, let's say, a husband?
Recently, I learned Ayesha Curry was not only a basketball wife with a tiny Nae Nae sensation daughter, but also a food and lifestyle blog curator. Upon hearing this news, I considered becoming a housewife someday.
At first, I felt like less of a feminist for even contemplating halting my career and purposefully marrying rich.
That's no longer the case.
Lately, I've become a faithful watcher of E!'s "WAGS," a reality TV show about the wives and girlfriends of professional athletes (Get it, WAGS?). Along with a healthy dose of drama and catfights, these women establish new businesses and raise families while simultaneously partying on white, sandy beaches with their boos' credit cards.
I was raised in a single-parent household by a mother who worked several jobs to keep me and my sister's financial worries at bay. Still, to think that's the only way to have a functioning household is naive and extremely short-sighted.
You'd think as a successful product of a single-parent household I'd lean toward a dual-career marriage, not domesticity. But actually, I'm not looking to become that kind of kept, Stepford housewife.
In fact, the definition of a housewife has changed more than Taylor Swift's boyfriends.
Housewives, then and now.
In 2015, an educated Millennial woman who depends solely on her man for financial support can often be thought as cheapening herself, especially since women are dominating the workplace more than ever before.
Now, women like Beyoncé prove we can have it all.
However, according to a 2012 survey by Forbes and TheBump.com, 84 percent of working women said staying home to raise children is a financial luxury they aspire to. The demanding pressure to perform as a working woman and mother has made women want to opt out of the former to be more present as wives and moms.
These women aren't Betty Draper types who solely occupy kitchens instead of corner offices. In fact, young stay-at-home moms still establish thriving careers.
Take, for instance, some of the housewives who infest our weekly TV guides. Most of them have taken up hobbies or started side-businesses that majorly contribute to the household. They busy themselves with passion projects that fulfill them while still allowing them to be hands-on mothers.
Excuse me if you think it's frowned upon, but I want to be Caroline Manzo.
We get it. It sounds almost absurd to solely rely on a man's income just to try random DIYs on Pinterest. But believe it or not, housewives are so much more than desperate "Primates of Park Avenue," only concerned with tea parties and lunches.
Some of my friends are married to men in the military, with children who desperately need the full support of a single parent at home. These women prove the idea of being a boss b*tch at home is extremely rewarding.
WAGS are more than a trophy.
My new #relationshipgoals might be met with sides-eyes and snickers from friends, but Millennial housewives aren't ornamental, sex slaves or equipped with a team of nannies and assistants who handle the bulk of diaper changes.
They're women who witness the details of their child's upbringing, have the luxury to sit front row for every recital and soccer game and run a functioning household.
Since women are in constant fear of being bad mothers or wives, you'd be hard-pressed to find complete satisfaction on either side of the stay-at-home moms vs. working moms debate. Who's to say one lifestyle is better than the other?
When my own wedded life begins, I hope to be writing stories from my home office, escorting my kids to play dates and trying out new recipes.
Either way, my ultimate goal is to find a man who respects my choice to spend days building a home, rather than a 401K.