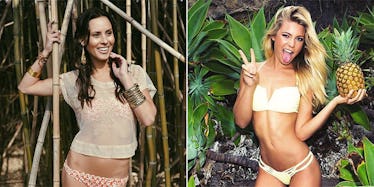 The WAGs Of The 2015 MLB Postseason Are All Home Runs (Photos)
Instagram
They say behind every strong man is an even stronger woman and in the case of professional athletes, it couldn't be more true.
This statement holds particular validity with regard to professional baseball players and their significant others.
The Major League Baseball season is comprised of 162 games, spanning seven months, and extending even longer for those who make the playoffs.
It's grueling on players and coaches, sure, but it's arguably just as tough on their wives and girlfriends.
These women are taking care of kids, careers and everything else under the sun, while their boyfriends and husbands compete around the country.
With the divisional round of the 2015 postseason underway, it's time to take a moment to appreciate the women behind the scenes.
Here are the WAGs of the 2015 Major League Baseball postseason.
Emily Greinke, wife of LA Dodgers pitcher, Zach Greinke.
Loved being able to help find this sweet Toby's owner yesterday :-)thankfully he wasn't without his mom for too long! pic.twitter.com/dKJ7qXSEGY — EmilyGreinke (@Wilsysmommy) March 19, 2014
Dominique Rizzo, girlfriend of NY Mets pitcher, Zach Wheeler.
Alissa Noll, girlfriend of St. Louis Cardinals second baseman, Kolten Wong.
pic.twitter.com/wEYtlNvQQA — Alissa (@liss_noll) January 16, 2014
Kim Figueroa, girlfriend of KC Royals first baseman, Eric Hosmer.
Kristin Smoak, wife of Toronto Blue Jays first baseman, Justin Smoak.
Alanna Wojciechowski, wife of Houston Astros pitcher, Asher Wojciechowski.
Me and my buddy #GSD #bestdogever pic.twitter.com/y9US7lxKSn — Alanna Wojo (@AlannaWojo12) April 12, 2014
Kourtney Elizabeth, girlfriend of LA Dodgers third baseman, Justin Turner.
Samantha Van Veen, girlfriend of NY Mets pitcher, Noah Syndergaard.
Yaimira Martin, wife of Texas Rangers center fielder, Leonys Martin.
Shelbi Alyssa, girlfriend of Texas Rangers third baseman, Joey Gallo.
Amanda McCarthy, wife of LA Dodgers pitcher, Brandon McCarthy.
Molly Beers, girlfriend of NY Mets third baseman, David Wright.
Coleman Cox, girlfriend of St. Louis Cardinals pitcher, Seth Maness.
Julianna Zobrist, wife of KC Royals second baseman, Ben Zobrist.
Ania Cywinska, girlfriend of NY Mets pitcher, Matt Harvey.
Mackenzie Valk, girlfriend of Houston Astros pitcher, Dallas Keuchel.
@kidkeuchy I'm coming for you! Did someone say starting pitcher? @AllStarGame #ASG #Cincinnati pic.twitter.com/aJ3uViToer — Mackenzie Valk (@Mackenzie_Valk) July 14, 2015
Jessica Delp, girlfriend of Chicago Cubs third baseman, Kris Bryant.
Citations: WAGs of the MLB: AL East (Busted Coverage), WAGs of the MLB: AL Central (Busted Coverage), WAGs of the MLB: AL West (Busted Coverage), Wives & Girlfriends of the MLB: NL West (Busted Coverage), WAGs of the MLB: NL Central (Busted Coverage), Wives & Girlfriends of the MLB: NL East (Busted Coverage)