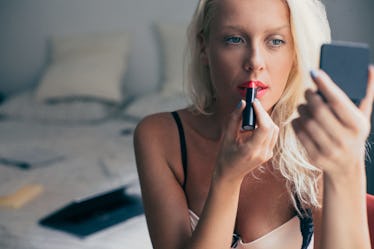 This App Lets You Swipe Left Or Right On Lipsticks Like They're Potential BFs
I got high -- no, very high -- last weekend. As a result, I started to count my lipstick collection — all 172 of them.
Yep, 172. I know it's a ridiculous number, but there are scarier things in the world. Let's not talk about it.
I think it goes without saying that I love lipstick. It's the easiest part of your look to experiment with. Plus -- and this might be my favorite part -- you never know what'll look good on you until you try it on.
That's the thinking behind Urban Decay's new Vice Lipstick app. To mark the release of the 100 new shades, Urban Decay released an app that lets you swipe left and right on lipsticks the exact same way you would with randoms on Tinder.
First, I had to upload a selfie to 'try on' the shades.
Then, I got my lips done.
All you have to do is swipe left on the ones you don't like.
And right on the colors you're into.
You can also save your favorites on the app so you know what you have to pick up on your next trip to Sephora.
I was all over this one.
I actually have this one and I'm obsessed. Then again, I've never met a nude lip I didn't like.
Now, if only it were as easy to get a good dude as it is to get an awesome lipstick, amirite?