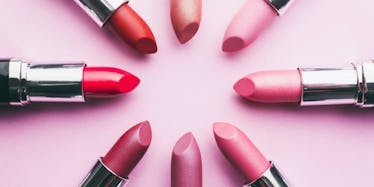 These Lipsticks With Real Flowers In Them Change Color Based On Your Mood
I own a ton of lipstick, but none of my NARS or MAC tubes even remotely resemble this.
China-based beauty brand Kailijumei just launched lipsticks loaded with REAL flowers. Because rosebud lips aren't really rosebud lips until they have actual roses on them, amirite?
The lipstick comes in three shades -- Minute Maid, Pink Barbie Power and Flame Red -- and a lip balm, all of which are a jelly formula and adjust with your natural body temperature.
The lipsticks themselves have a real-life flower and gold flakes inside, which kind of makes me think of that rose from "Beauty and the Beast." But, like, prettier and affordable.
Does it actually taste like Minute Maid, though?
This is literally too pretty.
Screw having a boyfriend, get me a box of this stuff.
My other lipsticks are legit crying right now.
The exact shade changes based on your body temperature.
They're essentially mood rings.
Each color is glossy, yet natural.
Good luck trying to get one.
Each shade is currently sold out. Maybe you'd have better luck trying to get Kylie's lip kit.