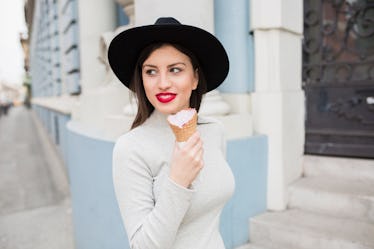 If You're a Millennial, You Own Way Too Much Of This Beauty Product
I think I have a lipstick problem.
A couple of weeks ago, I counted the number of lipsticks I have in my collection. I didn't include random lippies hiding around the darkest crevices of my purses or the ones that I have stashed away on my desk at work. The number was enough to make me question my life choices, my purpose and whether I need to go to some sort of Lipsticks Anonymous rehab facility.
You ready?
I have — drumroll, please — 172 lipsticks. One. Fucking. Hundred. And. Seventy. Two. Pardon me while I go barf.
In my defense, I write about beauty, so most of the lipsticks in my collection I didn't actually purchase. But seriously, who even needs half that many lipsticks? Is there something wrong with me?
Turns out, I'm actually kind of in the majority. Influenster, a platform for product discovery and reviews, surveyed 5,448 Millennial women and found that over one-third own more than 10 lipsticks. That's right. You can stop lipstick-shaming me now. Also, only 4 percent of Millennial women admitted to not owning even one lipstick, which still seems like 4 percent too many.
The analysis went even further, and here's where it gets more interesting. Influenster also ranked our favorite lipstick brands, and our top pick is surprisingly not Kylie Jenner's lip kits (although they are surprisingly good, but I digress).
Our number one? M.A.C. Yep, shocker. All your love for Ruby Woo has been memorialized.
Following M.A.C., which had 19 percent of the vote, is NYX, then Kat von D, Covergirl and, finally, Urban Decay. All good choices, in my opinion, although I think we're missing Tarte and Bite Beauty.
Kylie, time to step up your game. Or, you know, maybe stop making blue lipstick and freaking people out.
Was Influenster right? What's your favorite lippie brand? Vote below!