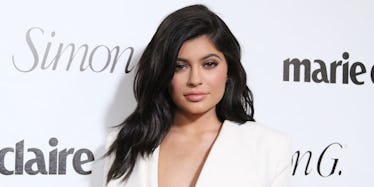 Kylie Jenner's Newest Lip Kits Are Here And People Are A Little Confused
REX/Shutterstock
UGH, KYLIE. JUST TAKE MY MONEY ALREADY.
Hot on the heels of the release of her two newest lip kit shades, Dead of Knight and KyMajesty, Kylie has just blessed us with not one, but TWO NEW SHADES. Commence freak out.
Unlike her previous wearable-ish shades (if you consider glittery, black lipstick wearable), her next two shades are anything but.
The first is a sky blue called — wait for it — Skylie. The particular shade of blue was inspired by her Ferrari. If I had a lip kit, I'd have a color inspired by my fancy ass car, too. That's just, like, the rules of lip kit-ism.
The second, dubbed Freedom, is a pretty deep navy that will probably look like ass on anyone who isn't Kylie Jenner.
Both shades are exclusive Fourth of July shades and are launching this Friday. Mark your calendars and ask your boss for that bonus because something tells me these will sell out in, like, 30 seconds. Bitches need their blue lipstick, OK?
It's currently unclear if the blue lippies will be sold alongside a red to fully optimize on the Fourth of July beat, but who knows? Kylie can redesign the American flag in varying shades of blue if she so chooses.
If you're wondering how in the actual fuck you wear a blue lipstick, you're not alone. On the plus side, the blue will actually make your teeth appear whiter (science!).
But you'll still look like an "Avatar" extra.
Naturally, Twitter had some THOUGHTS.
Wondering where @KylieJenner actually got her inspo for her new 'skylie' lipkit shade pic.twitter.com/aMNbDlPM7E — Hannah Gatensbury (@HannGatensbury) June 21, 2016
Kylie lip kits skylie makin look like clowns like they just drank a Blueberry Big Gulp at 711 or gave a BJ to a smurf #KUWTK #Kardashian — Chief Cheef (@NadravpOFFICIAL) June 21, 2016
Whatever, Ky. Just take my soul and paint it blue already.