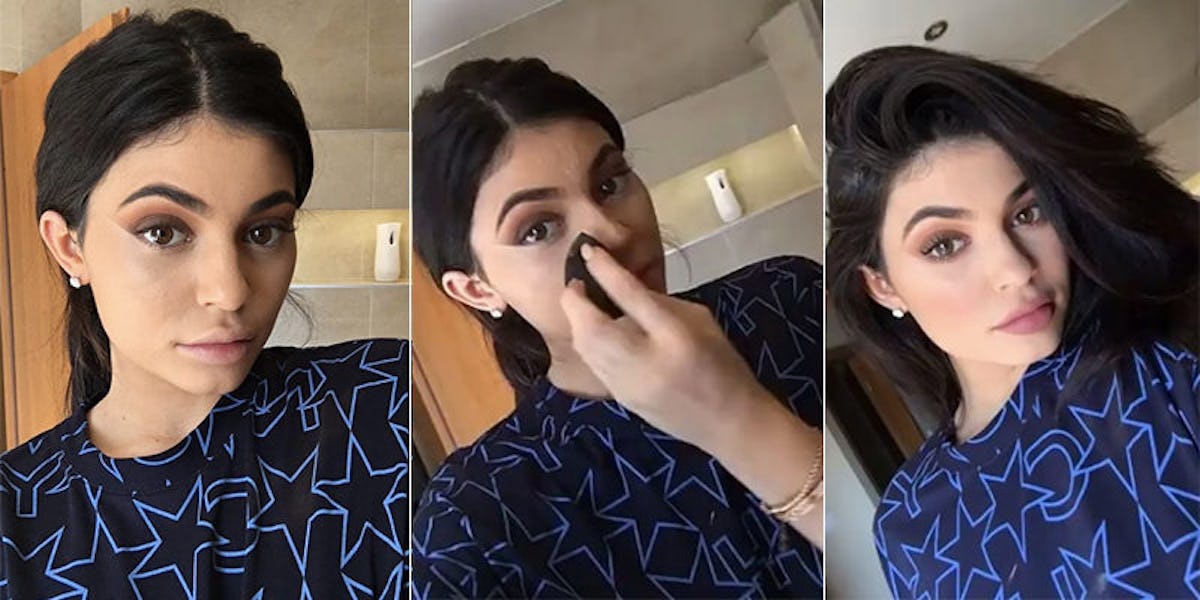 Kylie Jenner Just Revealed How She Gets Perfect Eye Makeup Every Time
Snapchat
The perfect smokey eye is an unattainable dream, something beauty lovers spending hours trying to achieve. Taping your eyelids, working out your fingers until they're strong enough to paint on shadow without shaking — there's no length too far for a true makeup obsessive.
If there's anyone who understands the technique, it's Snapchat enthusiast and sometime lip owner Kylie Jenner. Of the 18 years she's been on this planet, Kylie has probably spent a good 16 of them either drawing on her face or taking pictures of it.
All that time staring at her own visage in the mirror is paying off, by the looks of a Snapchat she posted July 10. Kylie (@Kylizzlemynizzl) did her own makeup for the day and treated fans to a step-by-step breakdown of the technique.
Hot take? Kylie's definitely been studying her glam gurus Ariel Tejada and Hrush Achemyan. The girl has serious skills with a BeautyBlender and dark shadow.
Jenner showed off a technique often used by pros to keep makeup looking crisp instead of smeared on. Contrary to popular belief, you should start with your eyeshadow and finish with foundation and concealer. Placing the neutral shade next to your eyeshadow creates an optical illusion that you've done a better job than you actually have.
According to Tarte pro artist Maria Jones, it's about a "precise application" of concealer that'll keep fallout from the eyeshadow off your face.
The teen celeb even wins the approval of makeup artist Sonia Kashuk, who explains:
This is a great trick that I often use... By placing the light color below [the dark shadow], it gives the illusion of a cleaner edge and also lifts up and outward.
Pay attention, beauty amateurs. Kylie Jenner makeup school is now in session.
First, Kylie applies BECCA concealer directly under her eyebrow to disguise any stray hairs (assuming she hasn't lasered those off) and highlight the brow bone.
After applying shadow, Kylie uses the tip of her concealer brush to sweep directly under the eye and up with a Nars formula.
She sets it with loose powder on a BeautyBlender Pro sponge. See that crisp line?
OK, here's the really important part. Cover the line with subtle shadow, which helps blend it in.
Voila: Insta-Kylie Jenner makeup.
Finish with 75 coats of lip gloss, three toy-size dogs and one Tyga.