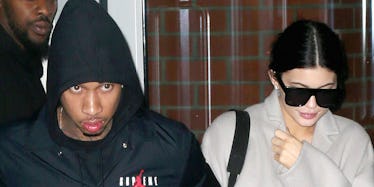 Based On This Instagram, It Looks Like Kylie Jenner Might Be Engaged To Tyga
REX/Shutterstock
Prepare yourself. I know silly traditions are often forgotten from one generation to the next, but I'm pretty sure wearing a diamond ring on your left-hand ring finger still means you're engaged.
It's impossible to know if Kylie Jenner is aware of this tradition, but if she is, Kylie Jenner's playing with all our minds in her latest Instagram.
When you first look at her pic, you might miss one tiny detail in the otherwise typical upload from the social media maven.
Yes, your eyes are not deceiving you: If you look carefully, you can see Kylie Jenner is wearing a fat, pear-shaped diamond on her LEFT-HAND RING FINGER!  If Tyga and Kylie are getting married, I just can't even.
Of course, there's no evidence the 26-year-old rapper gave the 18-year-old reality TV star the ring, but I can't imagine anyone else would've given her such a ring, and according to Daily Mail, Tyga was recently seen leaving Polacheck's Jewelers in Calabasas, California.
The signs are all here that Kylie Jenner and Tyga are back together and possibly engaged.
For example, not only did Kylie upload a photo with what I'm going to start calling an engagement ring, she recently cozied up to Tyga at a party and basically called Tyga her husband in a Facebook photo, which she captioned, "Mr & Mrs."
There's no diamond ring in this photo, but nonetheless, it appears the two got back together some time in the last couple of weeks and have once again become inseparable.
Kylie and Tyga also apparently recently had an adorable photo-booth session.
A few days after that, Kylie uploaded an adorable photo of Tyga kissing her on the cheek, which, based on the photo, she is clearly loving.
And just recently on Kylie's Snapchat, it appears Kylie and Tyga were hanging out and enjoying a little ice cream together. Tyga can't really be seen, but you can hear him talking throughout the Snapchats.
COOKIE DOUGH! That's also my favorite flavor, and that ice cream vending machine looks super cool.
But enough about the ice cream, WE ALL NEED TO KNOW IF YOU'RE ENGAGED, KYLIE! If you are, please tell us, and if you aren't, get that ring off that finger!
Well based on what can be seen here, do you think this is legit? Are Kylie Jenner and Tyga engaged? Let us know in the poll or in the comments!
Citations: Is Kylie Jenner engaged? Star flaunts huge diamond ring following deleted 'Mr and Mrs snap'.. after Tyga is spotted shopping at high end jewellery store (Daily Mail)