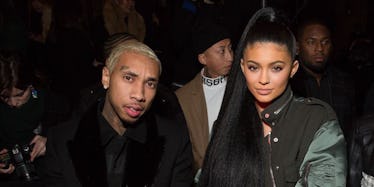 Hold Up, Kylie Jenner Basically Just Called Tyga Her Husband
REX/Shutterstock
Kylie Jenner's on-off relationship with Tyga has been quite the roller coaster ride. Not just for the couple themselves, but all of us.
I mean, I can't tell if these two hate each other's guts or are madly in love. I think it's safe to say, they can't even tell. Back in May, the celebrity couple experienced trouble in paradise after news broke regarding their breakup.
Since then, Kylie and Tyga have been inseparable at times and distanced themselves from each other at the same time. However, it looks like they might actually be settling back into their relationship again -- and we've got proof (as if Kylie's revealing Snapchats weren't enough).
Kylie Jenner uploaded a photo of her and Tyga getting cozy at an event together on Facebook. In the snap, Kylie is posing in an orange dress as she rests her head on Tyga's lap and wraps her arm around his leg. If that wasn't enough to seal the deal, you'll never guess what the caption read... *drumroll, please...*
Mr. & Mrs?! This makes me think the rumors of the couple being secretly married might actually be true.
Earlier that night, Kylie Jenner also snapped a few pictures with Chantel Jeffries, who was wearing the same dress as her in a different color...
...and with her partner in crime Hailey Baldwin.
In addition to Kylie and Tyga's intimate outing, the couple also spent the Fourth of July together and snapped some PDA for the 'gram, too.
Hey, maybe they're actually making this thing work once and for all. Time will certainly tell. But Kylie, just remember that you're still just 18 years old and there's a lot more that comes along with marriage than juicy Snapchat photos.
Then again, you purchased a $2.7 million home at the age of 17. Live your life.
Citations: Kylie Jenner Captions Sweet Photo With Tyga 'Mr. and Mrs.' After Dubbing Him Her 'Husband' (US Weekly)