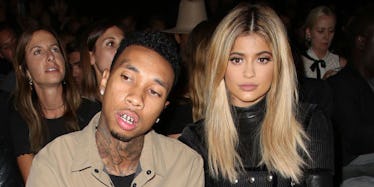 Tyga Speaks Out For The First Time About His Breakup With Kylie Jenner
REX
Tyga finally broke his silence about his breakup with Kylie Jenner.
Wait, is it considered "breaking his silence" if that silence literally lasted like seven hours and was broken the second he got in front of a camera?
Yesterday, the concept of love took a major blow when Tyga and Kylie Jenner announced they called it quits on their relationship.
The sacred bond the two of them once shared, a bastion of hope and companionship in this dark and dreary world, was thrown to the gutter like yesterday's compost -- an Icarusian end to a courtship whose only flaw was flying too close to the sun.
Tyga spoke out for the first time last night about the split, and from the looks of things, he seems to be doing pretty OK. He told E! News in New York,
I'm good, you know? Just another day and working hard and trying to get to that next level and achieve big things and evolve.
Many sources surrounding the Kardashian/Jenner family said the split was a long time coming, though that doesn't mean it was less of a shock when things finally ended.
Khloé even reportedly joked with reporters,
I'm just as confused! I need like a 'Note to self — who is everybody dating in this family.'
You and us all, Khloé. You and us all.
Citations: Tyga Breaks His Silence on Kylie Jenner Breakup (E! News)