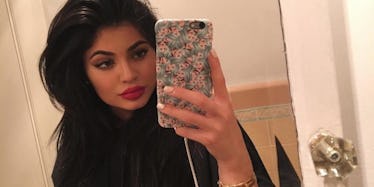 Kylie Jenner Defends Her Lip Kits After Company Receives A Failing Grade
Instagram/Kylie Jenner
The DUH-RAH-MAH surrounding Kylie Cosmetics is arguably more enticing than the products themselves, but customers are getting fed up and the Better Business Bureau is coming for Kylie Jenner.
Concerns voiced by customers regarding security, product quality and packaging recently led the BBB to award Kylie's line of cosmetics an F rating.
Unsatisfied with that particular outcome, the 18-year-old did what any young professional tasked with maintaining ethical business practices would do… SHE CALLED OUT THA HATERZ ON HER APP, Y'ALL!!!
Addressing her customers and fans, Kylie wrote,
You guys are the reason I keep going and I'm motivated every day to make Kylie Cosmetics the best it can be… I'm continuing to learn and I just want to make everyone happy. Because so many of you spoke out, I'm excited to tell you that the Better Business Bureau has looked at the facts and changed the rating.
The BBB did indeed change Kylie Cosmetics' rating from "Failing" to "No Rating," claiming there's more to be learned regarding customer service and quality issues, People reports.
The reality star added,
I've sold millions of lip kits and any complaint we've received to date has been addressed in a timely manner. I'm sick and tired of people coming for my business… I don't want to respond to the haters but you guys deserve an answer and to know the facts. I love you and apologize to anyone who felt the urge to complain and didn't receive the service they deserve.
The BBB cited five reviews of 134 in which the "underlying cause(s)" went unresolved, but if Kylie is serious about stepping up her game perhaps she'll walk away from this mess with a passing grade.
Kylie Lip Kits generally sell out like crazy the minute they hit the online store, making the ordeal a headache for both Kylie and her customers.
Part of being a teen millionaire businesswoman, though, is taking responsibility for the beast you created.
Time will tell if ya girl King Ky has it under control.
Citations: Kylie Jenner Responds to 'F' Rating from Better Business Bureau: 'I'm Sick and Tired of People Coming for My Business' (People)