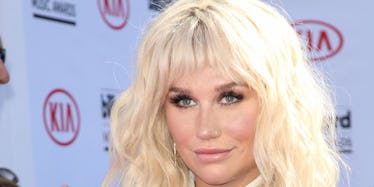 Kesha Posted A No-Makeup Selfie And Looks Different
REX/Shutterstock
Kesha has been hiding something.
During the last few months, the outspoken pop star has come clean to fans about the current battle she's waging against her record company after having allegedly been raped and drugged by mega-producer Dr. Luke.
Although she can't legally release new music quite yet, Kesha's baring her soul in a different way: through her Instagram.
A new post by the star shows her face without a stitch of foundation or concealer, and what you see might surprise you. All this time, Kesha's been hiding a one-of-a-kind face emblazoned with light freckles.
The picture, which appears to be a throwback to a recent vacation, shows Kesha in full earth goddess mode, complete with a caption about missing whales.
Although Kesha normally covers up the freckles for performances and red carpet appearances, we're really feeling the new look in lieu of her go-to glam.
She may be plagued by a struggling music career and a record company that refuses to release her from her contract, but a Kesha with freckles seems younger and more carefree.
Notably, this isn't the only time she's aired her freckled face to the world. Kesha's 2014 Teen Vogue cover featured heavy eye makeup but little concealer on the skin.
Even more recently, the photos accompanying her T Magazine profile showed the freckles in stark contrast to the rest of her face.
Interviewer Taffy Brodesser-Akner wrote of the star,
[Kesha's] face, close up, is covered in freckles the color of very light coffee that make her look younger than 29... She used to cover those freckles, but she doesn't anymore.
It's possible this photo is part of a larger trend, one in which Kesha fully abandons "Ke$ha," the feathers-and-puke character who made her famous in the first place. Less party girl, more authentic musician.
Record contract or no, Kesha's social media move reflects a larger trend toward barefaced celebrities embracing their real faces. On a recent Vogue cover, actress Emma Stone also let her freckle flag fly.
More of this, ladies. You're beautiful with less makeup, and we love to see it.