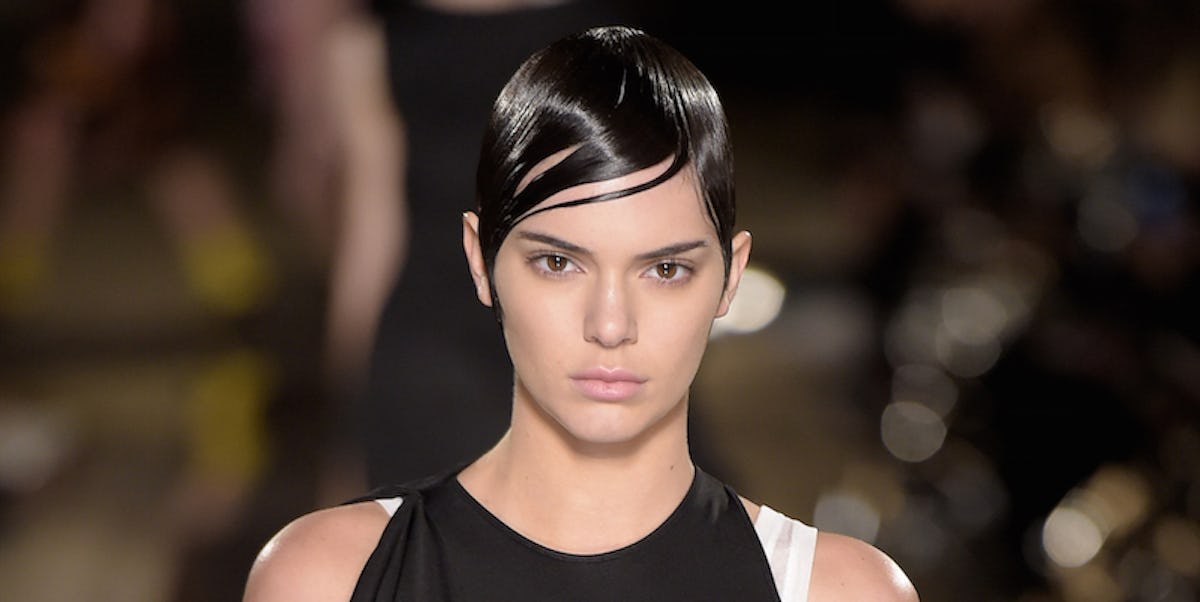 Kendall Jenner Wore A Pixie Cut, Proving Short Hair Can Change Your Entire Look
REX/Shutterstock
Being a model is a lot like being a super villain.
Granted, you don't get to destroy the world or anything, but you do get to endlessly morph your look in order to play characters who match every designer's vision.
Kendall Jenner, for instance, is proving herself to be the woman of a thousand faces at Paris Fashion Week. During the Givenchy fashion show on October 2, Jenner debuted a short, greased-back, faux pixie cut.
Paired with subtle makeup, her famous features were almost unrecognizable. The Kendall we know and love has mid-length hair, easy volume and I-woke-up-like this waves.
A Kardashian without her hair extensions is like a lion without its mane. An Instagram-obsessed lion, that is.
Vogue reports the show's fake bobs were the creation of Guido Palau, who was going for an extra-oily flapper look. (Palau, notably, also created the controversial pastel dreadlocks Kendall wore down the Marc Jacobs runway a few weeks ago during New York Fashion Week.)
Instead of ending in a blunt cut, as a real bob does, this look — which was also worn by models Lea T, Bella Hadid and Joan Smalls — involved a tiny knot of hair at the back of the neck. Essentially, fashion's answer to the rattail.
Slicked-back, oily styles might look good on the runway, but Kendall's soggy bangs look a lot more like "I didn't shower" than "style statement." However, the crop highlighted her jawline nicely and showed off a face that, quite literally, earns more money than I do.
Kourtney and Kim Kardashian showed up to the Givenchy show to support their baby sister (just hours before Kim was robbed), but so far, they haven't jumped on the no-hair train.
However, they've definitely done the wet look before. Remember Kim's famously scraped-back ponytails and buns? They're like the hair predecessors of Kendall's fashion-forward look.
For Kendall, we're sure this latest super villain look won't last too long (she has a lot more shows to do and fashion designers' characters to be).
But would you go for the fully committed chop after seeing Kendall's? How about a wet look? Keep me posted in the comments section.