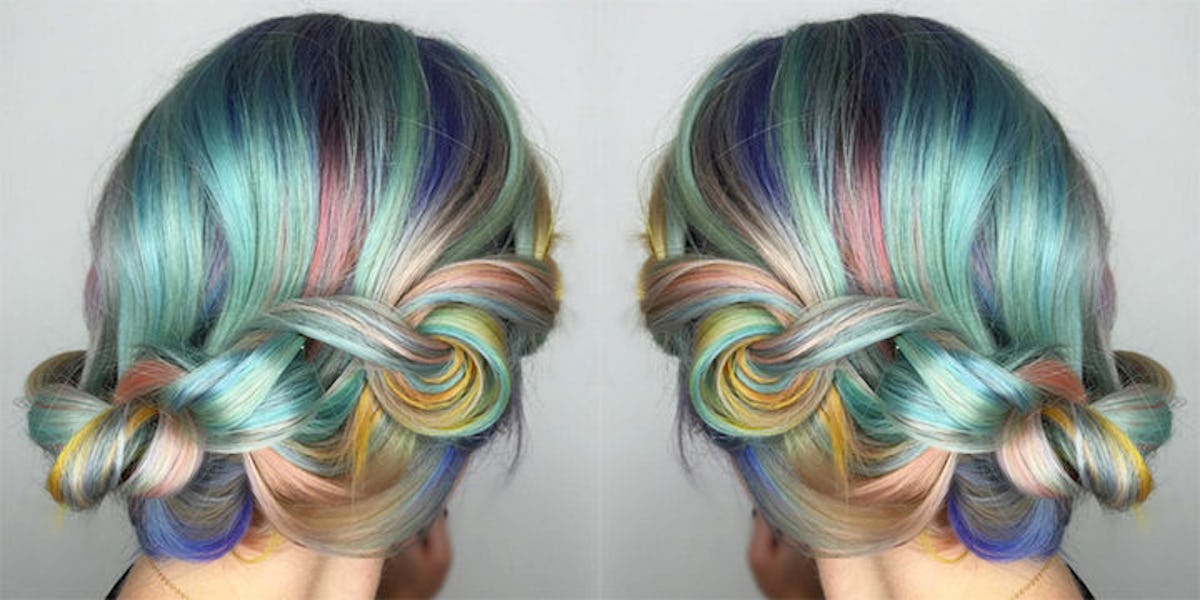 This Gorgeous 'Macaron' Hair Is The Latest Trend You Need To Try
Rainbow hair just got a diabetes-inducing upgrade. Ladies, give a warm welcome to macaron hair or, as it's alternatively known, candy unicorn hair.
The trend incorporates seven "candy unicorn" colors: purple, silver, mint green, pink, peach, yellow and blue.
Shelley Gregory, the stylist and colorist behind the style, says the look was inspired by the cult favorite macaron and pastry shop Ladurée.
"Everything from the crown molding and the way they display the macarons — it sticks with you," Gregory told Cosmopolitan. "It's kind of like Disneyland, where it's magic. I wanted that feeling when you look at this hair."
Personally, I'm down for multi-colored locks. This take on pastel hair, however, looks high maintenance as f*ck.
Also, with all those colors, you'd probably be in the salon all through lunch and way past your Chipotle dinner.
Then again, I've always wanted to resemble my favorite dessert without the commitment of covering my naked body with crumbled macaron bits.
Doesn't this make you hungry?
This hair is one way to satisfy that sugar craving.
Never thought we'd be into the wet macaron look.
You can even add glitter roots for that full-on Rainbow Dash look.
Doesn't this remind you of Funfetti bagels?
Citations: Macaron Hair Is the Most Delightful Rainbow Hair You've Ever Seen (Cosmopolitan)