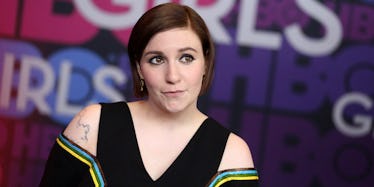 Why Glamour's New Issue Featuring Lena Dunham Is A Leap Forward For Women
REX/Shutterstock
When you think of women's magazines, naturally you envision a publication that caters to females 100 percent, right?
After all, it would be downright hypocritical if a woman's magazine was geared toward anyone but women. Well, what if I informed you that your assumption is nothing more than an empty speculation?
Contrary to popular belief, although a vast percent of woman's magazines are inhabited by women, behind the scenes; it's men who truly run the show.
For instance, the photographers, stylists, makeup artists and creative directors behind a majority of photoshoots featured within many woman's magazines today, mainly consist of men.
This is a discovery which wouldn't be an issue, if the publication in question wasn't packaged and branded to represent gender equality and female empowerment.
One individual who isn't entirely thrilled with this truth is Glamour's editor-in-cheif, Cindi Leive. Which perhaps is why she's making it her priority to alter the game of the magazine industry, starting with her own publication.
In an astounding attempt to break the barriers of the publishing world, Glamour has decided to celebrate women by hiring only women to put together their February edition.
The issue, which is on stands now and features the cast of HBO's "Girls" on the cover, was crafted entirely by women. As if that snippet of information wasn't spectacular enough, the magazine chose to opt out of photoshopping as well.
"We're a brand that cries foul when there are not enough women represented," said Leive in her letter from the editor for the isuse. She noticed only 37 percent of Glamour's photographers were female, with an even smaller percent of females consisting of hairstylists and makeup artists.
It's safe to say those aren't the statistics one would expect from a magazine which solely revolves around women. Then again, it's no secret the publishing industry is dominated by an army of middle-aged men, so it doesn't necessarily come as a surprise.
"Gender equality is on all of our minds. It's really important to me that Glamour not just talk the talk about female empowerment, but that we also walk the walk. So we've decided to support women in the most meaningful way we can: by hiring them," Leive stated. "From first page to our last every photo we commissioned for the February issue was created by women: photographers, stylists, hair, makeup, everything."
Although there's no denying how incredible a leap forward this is for woman's publications, the problem hasn't been entirely wiped clean. Despite Glamour's celebratory edition for women, there's still prominent evidence of men being featured within the issue, with designers being at the epicenter.
If you're as much a fashionista as I am, you probably recognized all four actresses on the cover were donning pieces from Marc Jacob's Spring 2017 RTW collection. Then there was the usage of Michelle Obama's makeup artist, Carl Ray who was also featured in the issue.
But Leive was quick to explain the reasoning behind these findings.
"For this issue we focused on our hiring," she explained. "We wanted to ensure that everybody we employed for the issue content was female. Our female contributors were then given free rein to choose whatever fashion items they liked," Leive continued, "which included in this story, not just Marc Jacobs but also Prada and Fenty," both of which are female designers.
Some would argue there is a slight contradiction within Leive's form of thinking. If one was going to focus 100 percent on the hiring of women, wouldn't you want to follow through with it, well... 100 percent?
Then again, this is merely the beginning phrase of the overall plan, and like all blueprints; there's continuous room for growth. Leive's newfound mentality doesn't simply cease at next month's issue.
In fact, the editor-in-chief plans to continue keeping its focus entirely on women well into 2017. If that appears to be the case, it's evident that Leive will have her work cut out for her.
However, one can't deny how refreshing it is to witness someone finally taking notice and choosing to break the stagnate mold, even if that process is gradual in the making.