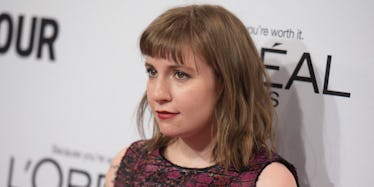 Lena Dunham Poses In Booty Shorts, Lets Her 'Cellulite Do The Damn Thing'
REX/Shutterstock
Say what you will about Lena Dunham, but she got a full leg of cellulite on the cover of Glamour magazine, and that's pretty damn cool.
The upcoming February 2017 issue of Glamour is one for the history books.
The issue was produced exclusively by women and is all about female empowerment and body positivity.
The cover features the cast of HBO's "Girls" — Jemima Kirke, Zosia Mamet, Allison Williams, Lena Dunham and, miraculously, Lena Dunham's un-photoshopped leg.
The feature, photo shoot and lack of digital correcting meant a lot to the 30-year-old "Girls" creator and star.
Lena posted some of the shots on her Instagram account, and in the caption described her life long struggle with the way society judged her body.
Lena wrote,
Okay, here goes: throughout my teens I was told, in no uncertain terms, that I was fucking funny looking. Potbelly, rabbit teeth, knock knees- I could never seem to get it right and it haunted my every move. I posed as the sassy confident one, secretly horrified and hurt by careless comments and hostility.
Lena clarified the problem wasn't that she didn't love herself or that she had low self-esteem, but that those around her were expecting just that.
She wrote,
Let's get something straight: I didn't hate what I looked like- I hated the culture that was telling me to hate it. When my career started, some people celebrated my look but always through the lens of 'isn't she brave? Isn't it such a bold move to show THAT body on TV?'
And on top of that subtle body-shaming, Lena continued, there was also very explicit body-shaming coming from online trolls "who made high school teasing look like a damned joke with the violent threats they heaped on."
So you can see why it means so much to Lena to see herself on the cover of a prominent women's magazine, with her thick thighs and cellulite proudly on display.
Lena wrote,
Well, today this body is on the cover of a magazine that millions of women will read, without photoshop, my thigh on full imperfect display. Whether you agree with my politics, like my show or connect to what I do, it doesn't matter- my body isn't fair game. No one's is, no matter their size, color, gender identity, and there's a place for us all in popular culture to be recognized as beautiful.
She concluded by thanking Glamour for taking this important step in reconstructing our culture's idea of beauty, writing,
Thank you to the women in Hollywood (and on Instagram!) leading the way, inspiring and normalizing the female form in EVERY form, and thank you to @glamourmag for letting my cellulite do the damn thing on news stands everywhere today. Love you all.
Lena Dunham is a turbulent figure in modern-day feminism. She is constantly apologizing for distasteful things she says. She clearly benefits greatly from her race and class privilege, and is often blinded by that privilege.
Still, I don't know about you, but I think making concrete strides in body positivity — like getting her cellulite on a magazine cover and talking about why it's important — is pretty damn cool.
Citations: Lena Dunham Poses in Booty Shorts, Thanks Glamour for Not Photoshopping Her Cellulite (Us Weekly)