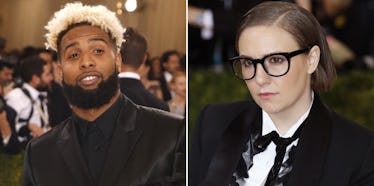 Odell Beckham Jr. Just Got Super Real About Drama With Lena Dunham
REUTERS
If you've been keeping up with the controversy surrounding Lena Dunham's perception of Odell Beckham Jr. after their mute encounter at the 2016 Met Gala, you know that the actress had crossed the line quite a bit.
Let's recap, shall we?
In an article published for Lenny Letter, Lena Dunham reflected on her experience sitting next to 23-year-old Odell Beckham Jr. at the Met Gala.
She started off by saying,
I was sitting next to Odell Beckham Jr., and it was so amazing because it was like he looked at me and he determined I was not the shape of a woman by his standards. He was like, 'That's a marshmallow. That's a child. That's a dog.'
Perhaps the biggest takeaway is that Beckham Jr. never said a word to 30-year-old Lena Dunham -- and that's what set her off in the first place. She just couldn't fathom why on Earth a complete stranger might not speak to her.
Dunham continued,
It wasn't mean – he just seemed confused. The vibe was very much like, 'Do I want to f--- it? Is it wearing a... yep, it's wearing a tuxedo. I'm going to go back to my cell phone.' It was like we were forced to be together, and he literally was scrolling Instagram rather than have to look at a woman in a bow tie. I was like, 'This should be called the Metropolitan Museum of Getting Rejected by Athletes.'
Lena Dunham's bizarre take on OBJ had the Internet buzzing for days and rightfully so.
The "Girls" star took to Instagram to issue a formal apology to the New York Giants' wide receiver.
Following Dunham's apology on the 'Gram, Odell Beckham Jr. is responding to her wild words regarding their encounter at this year's Met Gala for the very first time.
In a recent interview with Complex, Beckham Jr. stated,
I don't have enough information to really speak on it. We'll see what happens from there. I never want any problems with anybody in this world.
Well, as expected, OBJ wasn't even worried about it. As a matter of fact, he might have had ZERO clue who Lena Dunham even was, which is why he chose not to speak to her during their random encounter.
Beckham Jr.'s statement to Complex signifies that most people on the Internet likely know more than he does about the situation.
If that's not embarrassing for Dunham, I'm not really sure what is.
Perhaps the best way to look at the scenario is that the beef has been squashed, and OBJ clearly holds no resentment toward Lena Dunham despite her foul statements against him.
Way to put that maturity on full display, guys.
Now, let's give OBJ some time and space to focus on things that actually matter -- like this football season!
Citations: Odell Beckham Jr. Addresses Those Lena Dunham Comments (E! News)