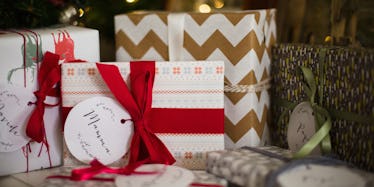 An Oddly Specific Gift Guide For Every Type Of Mom In Your Life
Skipping out on buying your mom a gift is disrespect of the highest order.
Even if you blow most of your holiday cash on yourself, the woman who birthed you still deserves a present for, well, being your mom.
Come on, she's the lady who knew your boyfriend was a f*ckboy before you did. Plus, she's still the only one brave enough to endure every breakdown and screaming match you throw at her.
The least you could do is show your appreciation with a present she won't regift by New Year's Day.
Every mom has her own unique personality, and her holiday gift should reflect that.
The mom whose Pinterest boards rival Lauren Conrad's.
The Martha Stewart of your family never backs down from a DIY project.
Though she never stays awake long enough to actually see the ball drop, equip her with enough glitter to make New Year's Eve as sparkly as possible.
What to buy: 24-Pack Glitter Set, Martha Stewart Crafts, $20
The mom who can never find her keys.
Mom can always remember that one time you peed your pants at the zoo. When it comes to finding her purse, however, she can never quite recall where it might be.
Instead of yelling "Mom, you just had it!" every time you two leave the house, help her track all the things that go missing.
Let's just hope she knows her iPhone well enough to activate it.
What to buy: 4-pack Bluetooth trackers, Tile,  $70
The mom who would never be caught dead in anything less than a designer label.
If your mom loves labels, a chic gift is the only way to her heart. A wallet-friendly blouse from H&M just won't do.
Instead, come to Christmas dinner bearing a custom present she can cash in when the shopping mood hits her.
What to buy: Virtual Gift Card, Bergdorf Goodman
The mom who always makes you soup when you're sick.
Let's be real, your mom already owns a Crock-Pot.
But, her tried-and-true slow cooker is like a wedding ring. It needs an upgrade every few years.
Replace the old one with one she can control, even if she's running late. Trust us, you'll receive the Daughter Of The Year award.
What to buy: 6-Quart Slow Cooker, Crock-Pot, $70
The mom who loves wine.
To be frank, your mom's a wine snob. She's not sipping on just any old grapes.
Help her keep her growing vino collection organized, while also adding to the grape-themed decor she loves. This rack is way easier on the eyes than those canisters she stashes sugar in.
What to buy: Rustic Wine Shelf, West Elm, $85
The mom who's a bigger Beyoncé fan than you.
Does your mom alert you when Beyoncé posts new Blue Ivy's pics? Yeah, she's a certified Beyhive member.
What better way to welcome her into the Church of Beyoncé than with some merch?
What to buy: Touch L/S Tee, Beyoncé, $50
The mom who's a total feminist.
All your feminist ideals come from a mom who taught you to champion other women, always.
Not only was she a working, financially independent mom, but she also never took any sh*t.
For that, give her a reminder that women are fierce queens.
What to buy: Male Tears Design Mug, Andrea's Emporium, $18
The mom who survived breast cancer.
No one understands how short life can be better than a cancer survivor.
Give her a gift that will let her know she's a tough cookie, no matter what problems arise.
Bonus? A portion of your purchase goes to cancer research to help others like your mom.
What to buy: Spiral Sun Charm Bangle, Alex and Ani, $38