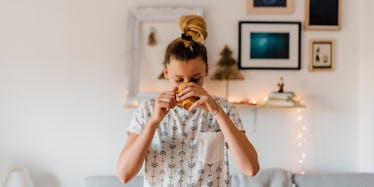 7 Caffeine-Infused Beauty Products That Will Wake Your Face And Hair Up ASAP
When I woke up this morning, it was still nighttime.
My phone may have said 6 am, but my heart said, "What the hell are you doing? Go back to sleep."
That's fall for you.
The sweaters and hot mugs of tea are wonderful, the shortened daylight hours are not. They tend to leave me feeling like a zombie in extremely tight skinny jeans.
I have a solution, one that comes just in time for National Coffee Day: Instead of picking up a latte at your local Starbucks, mix an extra shot of caffeine into your beauty regimen.
Think of the effect a cup of joe has on your system, making you buzzy and focused simultaneously. That's basically what caffeine will do to your skin, amping up blood circulation to create a more even, younger-looking face or 'do.
Ready to get caffeinated? These are a few of the best products for waking up your bod.
Proganix Volume Shampoo, $8, Amazon 
If you're starting the day with fresh hair, don't use just any old shampoo. Proganix may be a drugstore brand, but reviewers love its Volume line for extra-fine hair.
The formula contains both soy protein and caffeine to give you hair the size of Dolly Parton's. That's no feat easily achieved.
IGK 30,000 Feet Volume Conditioner, $25, Sephora 
What's shampoo without a solid conditioner to back it up? IGK is a hairdresser-owned brand that's focused on achieving results.
Apply this formula all the way from your roots to ends and let it rest for a few minutes, soaking up hydration. You'll be pleasantly surprised with the amount of root lift a single product can create.
Lush Five O'Clock Whistle Shaving Smoothie, $13, Lush 
I live and die by everything Lush, particularly because the brand's ultra-fresh formulas make me feel like I'm treating my body to a juice cleanse.
For an extra close shave, try Lush's coffee-infused "smoothie" to wake your skin up. Caffeine gets blood circulating, which means plumper-looking skin.
MILK Makeup Cooling Water, $24, Sephora 
After washing your face, give it a once-over with Milk Makeup's minimalist Cooling Water. Made with a mixture of caffeine, seawater and minerals, the easy-on stick will give you a fresh look.
Pro tip: Stash it in the fridge for even more of a cool down.
Kiehl's Eye Alert, $22.50, Kiehl's
OK, technically this is a treatment designed for dudes. But, caffeine in eye cream has been popular for a long time.
Pat this baby on before your makeup but after your cleansing routine, helping to increase circulation in the undereye skin (which simultaneously brings down the bags). If creams aren't your thing, just use regular coffee grounds to banish circles.
Caudalie Instant Detox Mask, $33, Amazon
Oh, the odes I could write to this paraben-free mask. My oily, acne-prone skin doesn't stand a chance against it, even if the price tag definitely makes this an investment addition to your top shelf.
Using a dime-size amount, apply Caudalie's caffeine-infused mask to your cranky face and wait until it dries before rinsing off. Talk about starting your morning on the right foot... or mask?
Origins GinZing Energy-Boosting Treatment Lotion Mist, $22, Sephora 
This Origins facial spray may be last, but it's far from least. The powerful combination of coffee beans and ginseng within the bottle are perfect for fixing any 3 pm slump you might have.
My co-workers and I keep a bottle at our shared table, for emergency spritzes.