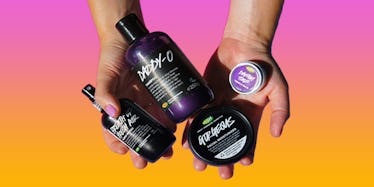 I Spent A Week With Lush And It Reinvented My Skincare And Beauty Routine
Ever since I can remember, my skincare routine has consisted of lotion.
Lubriderm body lotion. For my legs, arms and face. Sometimes I'll buy the one with the SPF; other times I'll grab the one for dry skin.
Last winter, however, I caved and bought Kiehl's Midnight Recovery Concentrate to try to stave off the inevitable dryness that comes with the harsh winters in New York City. It was truly a big step for me, as that 1-ounce bottle costs $46.
Kiehl's Midnight Recovery Concentrate, $46-$72, Nordstrom 
Luckily, just as I ran out of the serum, I was boarding a plane to London to experience the Lush Creative Showcase -- two days filled with all things Lush.
Before I even reached Heathrow, my skincare was already starting to change, thanks to a perfectly put-together travel package from Lush.
And now I'm completely ready for my flight to London tomorrow. Thank you, @lushcosmetics pic.twitter.com/wYMZK8Ei5H — Lydia Mansel (@lydiamansel) September 9, 2016
Lush products, neck pillow and headphones in hand, I snuggled into my middle seat and tried (unsuccessfully) to pass out on the red-eye flight.
Six hours later, I was in the Big Smoke.
After two days of testing a wide array of Lush products -- everything from toothpaste tablets, to "The Good Hour" massage, to the newest Christmas-scented bath bombs -- I finally nailed down the products I just can't live without.
My morning routine:
OK, I know this one is a bit pricey, but it's worth it.
You know that horrible, bloated, dry, greasy feeling your face gets when you're hungover? It's the worst. Well, after several hours of drinking on a boat this past weekend, I woke up with a headache, cramping and so much regret.
While Gorgeous wasn't able to settle my sensitive stomach (Gatorade helped that), it was able to set my skin back to normal. So yes, worth the $87.95 price tag.
My co-worker, Claudia, has been preaching the values of a good lip scrub for months. I wish I had listened to her sooner because I don't have a single negative thing to say about this.
The cola flavor is far from overpowering, and you'd think you'd be left with a sticky mess after application. Nope, just soft, smooth lips.
Anything that can give me the benefits of Vaseline (but with cuter packaging) is a winner in my book.
Throughout the day:
Pros of working on the internet: It's fun and it changes every day. Cons of working on the internet: You're constantly staring at a screen (in my case, sometimes four screens at once) and sometimes it feels like your eyes are going to fall out of your head and your brain is going to completely shut down.
Enter: Dream Time Temple Balm. It smells like lavender, and it's supposed to calm your mind. When it's only 2:45 pm on a Wednesday, there's nothing I need more.
Dry skin is the bane of my existence.
The office AC (and heat during the winter) sucks up any and all moisture from my skin, and I'm left with rough elbows and peeling knuckles -- so thank goodness I have the canister of Ultrabalm within arm's reach.
In the shower:
My hair dresser determined I have "blondeorexia." Every three months, I head back to the salon and ask for the same thing: "Make me blonder, please."
Now, instead of dropping my hard-earned money on the same highlights again and again, I do a quick rinse with Daddy-O to brighten up my blonde strands.
Dr. Itch Scalp Toner
While this product isn't yet widely available, it's definitely a must. I swim up to five times a week. Needless to say, my scalp gets pretty dry. No, it's not dandruff, as Lush hair specialist Katie informed me. I just have a dry scalp.
I've only used the toner one time in the past two weeks, and I already feel a massive difference.
Happy Happy Joy Joy Hair Conditioner
I decided to use Happy Happy Joy Joy only when I need a break from my other conditioner. It doesn't feel the most moisturizing (and my highlighted curls need as much moisture as possible) but it certainly smells good.
I've been a loyal Dove soap customer for years. What can I say? My tastes are simple, and I'm cheap.
But after using the Rose Jam Shower Gel, I don't think I'll ever go back to the Dove Beauty Bar.
My night routine:
Breath of Fresh Air Toner Water
Toner was something I had wanted to try for months but had never gotten around to actually buying. Now, after showering and washing my face, I'll spray a cotton ball with the toner, wipe my face and cringe at all the gunk still on there.
Gorgeous twice a day, every day.
Last but not least is my favorite Lush product, by far.
I only had to read the Sleepy Body Lotion description to know I needed this in my life:
Blanket your body in this lovely lotion before stepping into soft pyjamas for snuggly winter nights beside the fire.
Plus, there's nothing more comforting than the smell of cocoa butter and lavender. Sold.