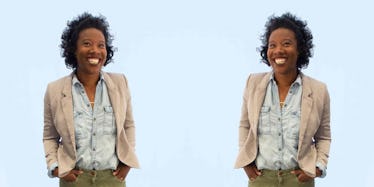 Brown Lipstick: How To Rock The 90s Trend That's Making A Comeback
Growing up, Nia Long's character, Lisa Wilkes, on "The Fresh Prince of Bel-Air" was my brown-skinned idol.
Not only did she lock lips with a 6'2" Adonis by the name of Will Smith, but she also sported a brown pout that defined the 90s and upped her around-the-way girl cool.
She was a flourishing 20-something, way hipper than I'd ever imagined I could be, nailing every beauty trend my young heart couldn't yet attempt.
Seriously, Lisa was the epitome of my #lifegoals!
Now, just as grunge-inspired gear and audacious hip-hop style return from their 90s heyday, her brick-brown lip color is making a comeback harder than Janet Jackson -- especially with Netflix and chill weather switching up our makeup choices.
Celebs like Taraji P. Henson are adding the same vampy appeal to their coveted beauty looks, donning every lip shade from dark chocolate to Bordeaux hues.
To recreate my love for Long's 90s-defining beauty, I chose Antique Velvet by MAC to set my lips in a muted, brownstone color. The truth is, with beauty and style trends in retrograde more than Mercury, we're turning less into our fav stars and more into our own mothers.
Antique Velvet Lipstick, $17, Ulta 
To help make the transition complete, here's how to pair 90s brown lips with your seasonal, everyday color palettes.
But before you apply a dry, matte shade, exfoliate and soften your lips with a simple sugar scrub made of almond oil, sugar and honey. Then, moisturize with your fav lip balm or coconut oil.
Okay, now you're ready to apply your statement-making brown lip.
When you have to dress-up for a meeting about absolutely nothing for the third time this week:
Sure, dark lips scream sex appeal, but they also highlight moodiness with little effort.
However, slapping this sultry matte shade on your smile can sometimes be too dramatic for the corporate world, especially if you suffer from resting bitch face.
To combat this, pair your brick-colored lip with heather gray and deep green hues. Not only will the cool colors brighten your dark professional look, but they will also help bring back the 90s look. (Minus the teen angst.)
When you DGAF about Fashion Week but still want to look on-trend:
"Brown doesn't go with everything," said no one ever.
Committing solely to solids just to rock a cocoa-colored lip is a drab way to dress for the fall season. Go as eclectic as possible with bold geometric and bohemian prints, which were heavily highlighted on this season's runways.
Wear this look to any event and you'll have a roster of prime cuddling partners to last you through the winter.
When you're on a mission to have sex on the first night:
Even though an all black outfit never fades, it often clashes with a goth black lip. Trust me, it's not cool to be mistaken for an overzealous Halloween lover well before October 31.
Opt for a brown lip with your modern Wednesday Addams outfit. It'll keep the dark, dramatic theme while also appearing approachable.
Pro tip: Deepen your brown pout with a deep purple pencil (see: MAC's Nightmoth lip pencil) for a lip that stands out but doesn't steal shine from your black outfit.