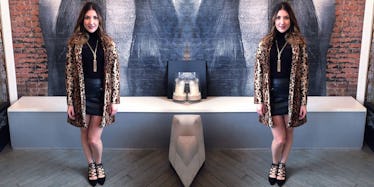 Shoulder Pads To Chic: How To Modernize Your Mom's 80s And 90s Clothes
I didn't always think my mom was a style icon. After all, when I was a teenager, Juicy Couture pants and Ugg boots were the height of sophistication. To me, her old bedazzled costume jewelry was gaudy, her denim jackets were way out of style and her fringed boots were straight out of a Western.
But as the saying roughly goes, "what's old becomes new again." Like the stuff of Molly Ringwald's wildest dreams, 80s and 90s trends are back with a vengeance. Lucky for me, my tough-as-nails Jewish mother kept all her old clothes stuffed in the basement for nearly 30 years because she knew one day her digs would find a home in my closet.
A few weeks ago, I decided to step into the walk-in closet we call a basement in hopes of finding some vintage items I could steal. (Hey, genuine leather, denim and suede don't come cheap.) Present-day, you have to spend major bucks on well-made products. But 20 years ago, clothing was made with much better quality at cheaper costs.
Obviously, trends from decades past were put together in questionable ways. Women's three piece suits were paired with Peter Pan-collar blouses, dresses were matched with heavy, long vests and nearly every jacket came with shoulder pads.
Modernizing your mother, grandmother or quirky aunt's wardrobe might seem like a risky move. However, by strategically pairing vintage items with your own clothing, accessories and shoes, you can create a look that is on trend, original and unlike anything your basic H&M b*tch can throw together.
For the 411 on recycling old trends, take a look at some outfits I've put together from a mix of my Mama's wardrobe and my own.
Deconstruct an 80s power suit so fierce it would make Nancy Reagan just say "yes."
If your mom used to take her office-wear cues from Melanie Griffith in "Working Girl," then she definitely had a closet stocked with power suits. While these bad boys usually came with matching pants, vests and blazers, pick one element and downplay it with simple, chic items from your wardrobe.
Here, I took an old, single-breasted jacket from the mid-80s, ripped the shoulder pads out (sorry, Mom!) and paired it with skinny jeans and simple loafers.
If you think Cookie Lyon started the faux fur trend, you don't know Jack...ie Collins.
Faux fur was huge in the late 80s and early 90s. But be warned, modernizing this trend can be tricky. You want to match your faux fur item with monochromatic colors, such as black, white and beige.
On the other hand, make a statement with your accessories by choosing a bold necklace that show's you're not afraid to think outside the box.
Bring back a suede, fringed skirt from when the Clintons still cared about faithful marriages.
Let's talk about the absolute biggest comebacks: suede and fringe. This skirt is from the 80s, but suede and fringe actually became popular in the 70s.
The biggest outfit pairings we saw at New York Fashion Week were fringed skirts and crop tops. So dig out that skirt you wouldn't have been caught dead in during high school and make your friends drool over your beautiful, unique and -- most importantly -- free fringewear.
Zack Morris will kick Kelly to the curb when he sees your upgraded vintage denim.
If "A Different World" was any indication, denim was the sh*t in the 90s. Thankfully, my mom's leftover denim skirts were made of actual denim, not the crappy stuff the kids stick in jeggings these days.
Long denim skirts can be old fashioned, so try to pair them with cute crop tops and tanks to up the sex appeal.
Throw on a slinky, minimalist 90s dress like you shopped in Cher's laundry.
If the 90s did one thing right, it was dresses. Sexy, simple and chic, these slip-on numbers will do wonders for your attitude, not to mention your sex life.
Pair the dress with simple accessories and sexy high heels for a look that says, "come hither" without breaking your bank account.