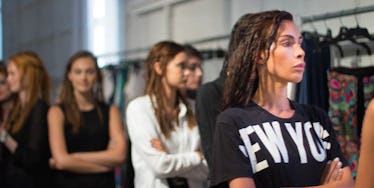 I Went Backstage At New York Fashion Week, And It Was Completely Insane
As far as tacky tourist t-shirts go, I can think of an obvious gap in the market.
There's no logo tee -- to my knowledge -- that reads, "I Survived New York Fashion Week And All I Got Was This Crappy T-Shirt."
Except, more accurately, if you attend any NYFW shows, you wouldn't get the t-shirt.
You'd get hours of social media fodder, prime for the taking, including posing socialites, shoes entirely inappropriate for the cracked pavement of New York and hilarious hats. If there's one thing I've learned about Snapchat, it's people love a good statement accessory.
I had the idea, once upon a time, only the tall, blonde and gluten-free got invites to the hallowed halls of the fall's runway shows.
Then I became a women's writer.
Beauty writers and those in media receive veritable deluges of publicist emails announcing so-and-so's collaborations with fancy designers, inviting us backstage to photograph the looks of each show before politely, fashionably kicking us out the door with the stiletto heel of an Italian-made boot.
Like Anna Wintour and Leandra Medine, I had privileged access to New York's most fashion-forward shows. Unlike those sartorially-blessed ladies, I spent time in the back instead of the front row.
Fashion Week is infinitely more chaotic behind the scenes.
Once I arrive on location, clad in my journalist best — black, always black — I take a seat and, in a dignified manner, remove my Flyknits and replace them with stiletto heels.
Every member of the press is doing this simultaneously, so it looks a little everyone stepped in the same sticky patch of gum on the ground. To be fair, there are lots of free magazines and water bottles being handed out only to later form a layer of detritus on the ground. It's an urban jungle out there, and there's probably rogue gum all over the place.
When my press pass has been cleared by no fewer than three elderly security guards, I'm through to the fashion fortress.
In a dimly lit room packed with journalists, photographers, models and makeup artists, I'm frantically rounded up by a publicist with a clipboard who's in charge of making sure I get the rundown on the looks being readied for the show.
The whole process is, frankly, overstimulating.
The models' adrenaline mixes with the hair stylists' ennui to create an atmosphere that's like a stressful nightclub with a lot of hairdryers. I'm starting to hyperventilate and sweat a little. Those of us who can't afford to invest in Botox for our armpits are fresh out of luck backstage.
There are hundreds of moving pieces in every fashion show.
The people who make Fashion Week happen run on combinations of espresso and tiny food, minuscule cupcakes at noon and little scones for breakfast.
And yes, contrary to popular belief, the models do actually consume the treats provided. It's just their stomachs are about one-sixteenth the size of the average woman's.
Never before have I seen a half-size snack croissant with a single bite taken out of it, left to linger on a sad plastic plate. It's like witnessing someone eat a grape in multiple bites: profoundly weird and unsettling.
Every writer in the room fights for the same exact content.
As a part of the handful of editors and writers thrusting their iPhones into the faces of the beleaguered head stylists or makeup artists, I fight to record the nuances of the looks over the dull din of camera shutters.
Trying to get a unique photo of the makeup, I'm forced to think again; there's only one model who's taken a break from primping to be shown off like a prized poodle, and she barely deigns to give us all her best smize. That's smile plus slightly squeezed eyes, for those who haven't spent an inordinate amount of time watching "America's Next Top Model" reruns.
After squeezing between identical writers in denim to get the money shot, it's time for me to shoot "candids."
Standing behind three stylists, each grasping one strand of a French braid the way an architect considers a 2x4, I pretend to understand why this construction is so much different from the one my best friend taught my during a third-grade slumber party.
Except, she only used a comb and this version requires no less than two creams and a hairspray.
Heading back to the real world, I decide Fashion Week is mostly a fantasy.
Finally, the time has come to pack up my phone, text my editor, "French braids again," and hand over the press pass.
Like my dignity, this is not something I'll get to keep during Fashion Week -- passes get reused with every show.
On my way out the door, ready for something larger than a doll-sized joke meal, I catch of the glamorous people beginning to line up for the show. I'm not attending, of course; I've got a deadline to meet.
For one sparkling, overheated moment I lived Fashion Week. And that, my friends, is enough to last me all year.