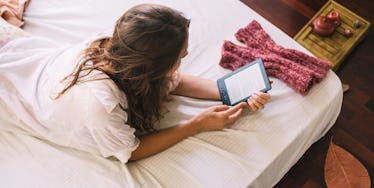 7 Books That Will Help You Own Your Single Girl Status In 2016
Being single isn't as tragic as it often seems.
Trust me, I've spent enough time dangling between "single" and "it's complicated" to know there's great solace in being unbothered by a significant other.
In fact, being your own teammate is the perfect opportunity to get to know yourself without distractions.
Carving out time to discover who you are, the things you love and your professional goals are some of the best investments you'll ever make.
Don't pine for your Prince Charming. Instead, flip through books that can pull your best self to the surface.
Grab a pint of Talenti, pour a glass of red wine and dig in.
If you want to reawaken your intuition.
Think of this 600-page novel as the spiritual guide to your most intuitive self.
Women often lose touch with the profound wisdom we're born with, which explains how f*ckboys fly under the radar.
Allow Estés to help you get back in sync with those instincts. They'll help you make the best life choices.
If you're wondering why your 20s have been a whirlwind of bullsh*t.
The Defining Decade, $7, Amazon
There's no Google Maps app for navigating life in your 20s. Sometimes we make too many lefts and end up right where we started.
Avoiding the guaranteed pitfalls of this decade is impossible. But, you can be fully prepared to swim, not sink.
When you don't know which way to turn, Jay provides tools to navigating the decade with as much happiness as possible.
If you're almost ready to get back into the dating pool.
Re-entering the world of dating is like double dutch. You're never quite sure when to jump back in.
Though getting ghosted isn't particularly funny, the comedian takes a light-hearted approach to helping us loveless folks figure out why our text messages go unanswered.
Dust off your LBD and schedule a date with this quick read.
If you need a pick-me-up.
Oh, The Place You'll Go, $11, Amazon
When you're taking a mental break from dating, pick up something light and inspirational. What's better than a childhood classic?
We know you got this gem as a graduation gift, so crack it open to relive the wildest dreams you've forgotten about.
It may even motivate you to finally book that solo trip you've been dying to take.
If you love food and need a new hobby.
What better way to celebrate your singledom than by cooking all the best comfort foods?
We know, you're probably craving some cuddle time over a pre-made breakfast sandwich.
Still, learning how to deviate from basic dishes and create something new might help you find a healthy, new hobby.
If you're a bit of a maneater and DGAF.
Bitch: In Praise of Difficult Women, $14, Amazon
Your current relationship status has no baring on who you are as a woman.
While your "no-prisoners" approach to love is deemed "difficult" or "bitchy" by men, this read reminds you to stand your ground.
If your life is actually a mess.
Let's not pretend we've always got our sh*t together.
Though you're on the path to learning how to cook, landing a job you actually like and working out more than once a year, you sometimes need to know you're better off than someone else.
Pick up this funny tale about Bridget's journey to self-improvement.
Shortcut? You can totally watch the movie version.