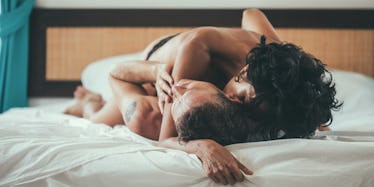 Helen Mirren Proves You Can Be Sexy At Any Age In New Makeup Ad
Stocksy
Move aside, 20-something models: Dame Helen Mirren is the hottest catch on the block these days.
In a newly released ad for L'Oreal Paris UK's Age Perfect skin care line, Mirren swaps an "age-appropriate" khaki trench for a va-va-voom ensemble more bombshell than a British monarch.
The tattooed 69-year-old is the latest female celebrity to show beauty and style don't quit after the age of 50, joining the ranks of Joan Didion, Madonna and Joni Mitchell.
Mirren clearly loves playing the devil-may-care cougar who prefers a young, attractive runner over a man her own age. The Dame is a talented actress, but I'll bet you the coy smile she's wearing is real.
When L'Oreal announced its partnership with Mirren in October, she humbly told press,
I am not gorgeous, I never was, but I was always OK-looking and I'm keen to stay that way.
I'm inclined to argue Mirren is probably more attractive now than she's ever been, seeing as age brings a certain comfort in your own skin most younger women haven't yet learned.
And, more importantly, commercials like this mean major brands have finally begun to listen to female customers.
Women want their role models to be uniquely beautiful, not just the cookie-cutter pretty faces we typically see image plastered across every billboard.
With a red lip and bra strap to match, Mirren shows women sexy is a state of mind.