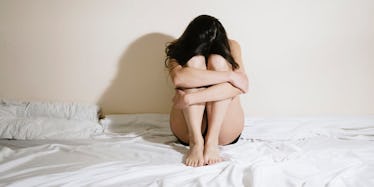 56-Year-Old Madonna's New Versace Ads Prove She's Sexy At Any Age
Like it or not, Madonna is a tough-to-the-core pop culture icon.
The 56-year-old diva is the face of Versace's spring/summer 2015 ad campaign, and the Queen of Pop looks striking in black and white.
And while she follows the mold set by previous lead Lady Gaga -- Madge was also shot with platinum blonde hair in a series of tightly-fitting dresses -- Madonna can't be placed in a box.
This is the singer's fourth venture into Versace print-modeling territory, and her threatening-but-chic aesthetic nearly cuts through the page in images shot by Mert Alas and Marcus Piggott.
She may be middle aged, but Madonna shows the same vibrancy that attracted fans to her side when the star was up-and-coming. Her tightly muscled body bears evidence of hours spend in grueling yoga training, attempting to redefine the importance of fitness as a motivator and a necessity.
Brand Vice President Donatella Versace told the New York Times she picked Madonna because the singer doesn't believe in limits, for herself or for any woman.
She continued,
Madonna says it best herself: She is unapologetic. She is her own woman, a role model who shows other women how we can do what we want, and get what we want, and do so for all of our lives, with no compromise.
And that's important to note because it's no longer Madonna's musical fame carrying her -- it's her status as an icon.
As The New York Times points out, the current generation of shoppers is more likely to know Madonna for her 2003 duet with Britney Spears than "Papa Don't Preach." But her upcoming 2015 album, titled Unapologetic, shows a woman who's beyond competing against 20-year-old pop stars.
Versace said,
When Madonna asked me on set, 'Which character do you want me to play?' " I answered, 'I want you to be Madonna and yourself.' And she laughed at me.
This is Madonna's fourth campaign for Versace. Her first was shot nearly 20 years ago.
[caption id="attachment_871499" align="aligncenter" width="600"] Versace[/caption]
These images come on the tail of Madonna's Interview magazine pictorial, in which the singer made headlines for posing topless.
[caption id="attachment_871506" align="aligncenter" width="600"] Versace[/caption]
Versace will reportedly run a 12-page pictorial ad campaign next spring in major fashion magazines like Vogue, both American and European editions, as well as Vanity Fair.
[caption id="attachment_871512" align="aligncenter" width="600"] Versace[/caption]
Citations: Madonna replaces Lady Gaga as face of Versaces new fashion campaign (Daily Mail), Madonna Stars in New Versace Ad Campaign (New York Times)