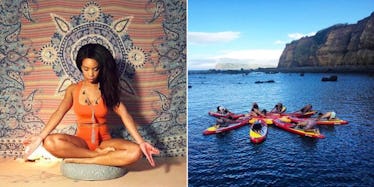 8 Yoga Retreats Throughout The World To Focus The Mind And Body This Summer
Instagram
There's no better time than the summer to reset both your body and your mind.
You're shedding your winter wardrobe, emerging lighter and freer than you've felt in months. You're spending more time outside, soaking up those lovely rays of sunshine and thriving from that extra vitamin D you've been craving for so, so long.
It's been a pretty stressful year so far, from an orange monster taking over the White House and threatening our democracy, all the way to Amy Schumer's recent breakup crushing our hopes and dreams of true love's existence.
If your head is in the clouds, it may be high time to lean into those spacey vibes for the summer, so you can return home totally grounded and centered by the time fall rolls around again.
Here are eight yoga retreats to help you find your balance and bring you back down to earth this summer.
1. A week of vinyasa yoga in Ibiza
Vinyasa yoga is all about creating fluidity and flow by coordinating your breath with the movement of your poses. Master the flow in Ibiza, and channel that same balance when you come back home.
Just outside of a traditional Portuguese village awaits the yoga-filled escape of a lifetime. Become one with nature, and reconnect with yourself in this quiet, peaceful valley.
The retreat specifically focuses on "personal healing and relaxation," both major keys to truly recalibrate your mind and body.
Plus, you just can't beat that incredible view.
If you're a goddess and you know it, this is your go-to yoga retreat this summer.
You'll bond with other beautiful goddesses just like yourself, participating together in daily meditation, yoga, and enabling workshops. Hallelujah.
Located between French Polynesia and American Samoa, just northeast of New Zealand, are the breathtakingly beautiful Cook Islands.
This retreat combines stand-up paddle boarding and yoga for a uniquely serene experience of the gorgeous South Pacific. If you can find your balance while doing yoga on a paddle board, you can achieve it anywhere.
This retreat house offers an amazing opportunity to improve your yoga skills and stimulate your thought processes to guide you to a healthier lifestyle.
With a focus specifically on Sivananda yoga, this getaway encompasses the complete approach to bettering your life you've been searching for.
Rejuvenate your spirit on this dreamy retreat to Bali. Enjoy life-changing meditation and yoga sessions by day, and experience the amazing culture of the island by night.
Experience the archaeological beauty of Machu Picchu and the Andes mountains.
Sandra, the founder of Vajra Sol Yoga Adventures, will guide you through the gorgeous landscape and help you master your vinyasa flow like no other.