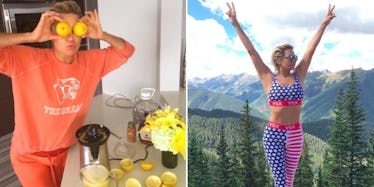 Gigi Hadid's Mom Shows Off Her Insane Body After Completing Master Cleanse
When life gives you lemons, you can make lemonade.
Or you can use put those darn lemons to work and use them to score a smoking hot bod.
Don't believe me? Just ask Bella and Gigi Hadid's gorgeous mom, Yolanda.
This former cast member of "Real Housewives of Beverly Hills" just posted a photo on Instagram that shows off her flat stomach after successfully completing the Master Cleanse, and it's not hard to see that at the age of 52, Mama Hadid is looking hella good.
Now you may have heard about this juice cleanse back when Beyoncé used it to shed some pounds. But if you are not familiar with this trendy Hollywood ritual, let me fill you in.
It's basically a 10-day juice fast where you only drink tea and a special lemonade made with maple syrup and cayenne pepper.
Yep, that's right. No food for 10 days. Just spicy lemonade.
Apparently, this particular cleanse is supposed to detoxify the body and help eliminate excess fat. However, critics argue that there's no scientific proof to back the claim that juices remove toxins from the body.
If you ask me, the Master Cleanse lemonade concoction just sounds like a recipe for extreme hangriness.
But hey, based on Yolanda's pictures, this intense diet may have paid off because it seems like she is feeling just as amazing as she looks.
You go, Yolanda!
Citations: Yolanda Hadid Shows Off Her Abs in Patriotic Workout Gear After Completing Master Juice Cleanse (ET Online)