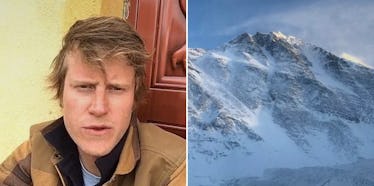 Everest Climber Gets Real About Struggling With Mental Health As An Athlete
Snapchat
Cory Richards, a young, goofy athlete and photographer who climbed Mount Everest last year with countless people watching on Snapchat, isn't necessarily the first person you'd picture when you think about someone dealing with mental health issues.
But Richards came forward with his story about living with depression, bipolar disorder and anxiety, breaking harmful stereotypes of what mental illness looks like.
A bout of depression and anxiety, due to inconsistent use of medication, physically slowed his ongoing attempt to climb Everest again.
He told his story on Snapchat on Wednesday from the base of the mountain.
Richards and fellow mountaineer Adrian Ballinger are documenting their summit attempt on Snapchat for the second year in a row, using the name EverestNoFilter.
Elite Daily followed them last year, inspired and riveted by their journey.
Richards is no stranger to climbing; he summited Everest last year without supplemental oxygen.
Only about 200 people have ever done that.
Richards and Ballinger started their latest summit attempt a few weeks ago. The first part of climbing Everest is acclimatizing, aka getting used to the thin air that high up.
It takes weeks to get used to it, climbing up and down until your body adjusts. (EverestNoFilter is serious edutainment.)
While Ballinger was in good spirits and decent energy through the early process, it was clear that Richards was not doing so well.
He talked about his slow pace and lack of energy during those early weeks in April and May. By Wednesday, the pair had officially finished acclimatizing, and Richards looked back at what he had gone through.
Richards fully explained the mental health problems behind his physical pain in Snaps on Wednesday.
"I really struggled early on in this Everest expedition, and I had some ideas why it was happening, but I wasn't certain," he said.
Because they want EverestNoFilter to truly be "no filter," Richards revealed his personal history with mental health.
He explained that he was diagnosed with clinical depression at 12, bipolar disorder at 14 and takes medication for both. Meanwhile, he has also "dealt with addiction and anxiety" in his life.
Richards told the Snapchat viewers,
The truth is that during the travel sequence leading up to the trip, packing, I wasn't as consistent with my drugs, with my medication ... So basically, early on in the trip, I was dealing with a minor bout of depression and severe anxiety. And this manifested by having a major effect on my heart rate and my ability to perform and exercise. So it's not a big deal at all -- back on a consistent basis, I feel much, much better, and my performance and my moods are exactly back where they should be.
Richards also mentioned the ongoing political fight in the United States over health care coverage for depression as a pre-existing condition.
Richards said he wanted to tell Snapchat viewers about it because it's important to be open.
"It's my belief that these things affect more of us than we care to think about, and we should talk about it," Richards said.
He concluded by gamely acknowledging that it was "a pretty big personal Corey No Filter slice today."
"But for everybody out there who deals with these things with themselves or their family, it's just important that it's talked about and put out in the open," Richards said. "So, hope you guys are well and smiling, and we'll be back on the mountain soon."
Richards and Ballinger expect to make their final push to the Everest summit near the end of May.
We're rooting for them and their health every step of the way.
Citations: Two Climbers Return to Everest to Snapchat the Summit (National Geographic)