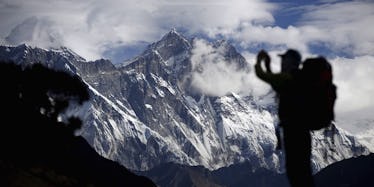 These Guys Are Snapchatting Their Journey As They Climb Mount Everest
REUTERS/Navesh Chitrakar
A fair amount of people have summited Mount Everest at this point, but as far as we know, no one has ever Snapchatted the journey to the top.
But, that's exactly what ski mountaineer Adrian Ballinger and National Geographic photographer Cory Richards are currently doing, and they're giving the entire world a live, firsthand look at what it's like to climb the mountain in the process.
What's more, the intrepid explorers are attempting to do all of this without the help of bottled oxygen. As Ballinger noted in a recent article via Outside Online,
While over 7,000 ascents of the mountain have been made with bottled oxygen, only 193 have been accomplished without, and Cory and I are going to try going without, too. While I've summitted six times, I've always done while guiding -- and always with supplemental oxygen. Cory has climbed Gasherbrum II and Lhotse without oxygen, but has yet to reach the top of Everest.
You're probably thinking exactly what I'm thinking: These guys are insane. But, it's pretty incredible what they are doing, and the Snapchats they posted so far are absolutely stunning. They also posted some breathtaking shots to Instagram.
The mountains showed us their moody side today. Despite the cold wind, we climbed to 18,000 feet, running ridges in the clouds. @coryrichards, pictured, camera out, beneath the epic walls of Ama Dablam, seamlessly combines shooting photos with climbing fast. His creativity never seems to run out, but also never takes away from our daily climbing objective. It's an honor, and non-stop entertainment, to team up this season for our no-O's attempt on #Everest. Meanwhile, great news from #Tibet. Our permits are signed and the border has opened. We will spend 3 more nights up high here in the Khumbu, and then be on the move to the North Side! #EverestNoFilter #Everest2016 A photo posted by Adrian Ballinger (@adrianballinger) on Apr 14, 2016 at 5:33am PDT
Ballinger noted they chose to chronicle the climb primarily through Snapchat because of the unique engagement it helps foster. He said,
We chose Snapchat because 'snaps' -- unlike posts to Instagram or Facebook -- must be posted immediately from a phone's camera. If we're successful, you'll have a complete chronicle of our journey. We'll show various points of view by handing the camera to Sherpas, guides, climbers, an expedition doctor, and a philanthropist during our climb. Our goal is to share our perspective and encourage dialog on both the positive and negative sides of climbing Everest. Ultimately what we want is a positive future for Everest, and for those who work and recreate on the mountain. Getting there will require thought, discussion, and effort from everyone involved. We hope our story can help to illuminate some of the issues, and possible solutions.
Climbing Mount Everest is a feat in and of itself, but doing so without oxygen while updating social media is an entirely other matter. Kudos to Ballinger and Richards for taking on this monumental challenge and for giving us a live perspective of what it's like to climb Everest, the world's tallest mountain.
They're taking social media to an entirely new level, literally and figuratively.
@coryrichards and I have been brainstorming a trip together for years. Feels good to actually be on the move and making it happen! As always in the #himalaya, plans need to be fluid. With the Tibet border staying closed until April 15, we are headed into the Khumbu Valley today to trek, climb, and continue our acclimatization. #Everest will wait a few days! This photo and more to come from @markstonephoto #liveyouradventure #EverestNoFilter #Everest2016 A photo posted by Adrian Ballinger (@adrianballinger) on Apr 9, 2016 at 9:10pm PDT
If you want to follow their Everest adventure, check out @EverestNoFilter on Snapchat. You can also follow their personal accounts, @adrianjb and @crichardsphoto.
Citations: Why Cory Richards and Adrian Ballinger Are Snapchatting Everest (Outside Online)